Game Changer
This Nonprofit Leader Found a Simple Way to Encourage Immigrant Assimilation
Give them a credit score.
By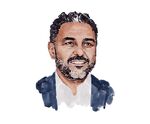 For generations, those without access to banks and credit cards have depended on one another for loans and funding. As a result, millions of immigrants don't have a credit score, even though they have plenty of credit history. "People were involved in very informal lending circles," says José Quiñonez, chief executive officer of Mission Asset Fund. "We thought we could create a process to formalize that lending so that we could report it to the credit bureaus."
Without a credit score, it's hard to obtain a credit card, let alone lease a car, fund a child's education, or buy a home—all hallmarks of successful American life. Under Quiñonez, MAF began tracking these off-the-books loan payments and giving that data to credit bureaus. "He's influenced an entire field by making the parts visible that create financial identity and track records," says Ida Rademacher, a vice president at the Aspen Institute, which hosts a financial technology group Quiñonez has attended. "Lending circles have been around forever, but his innovation was to broker the relationship with credit bureaus."
Known as tandas in Latin America or susus in West Africa, these informal loans come in a variety of forms across cultures. Quiñonez's awareness of these shadows of the banking sector began in 1980, when he entered the U.S. as an undocumented 9-year-old. He received amnesty under Reagan's Immigration Reform and Control Act of 1986 and, as a graduate student at Princeton's Woodrow Wilson School, discovered how legitimizing finances in the developing world, such as giving land owners the title to their property, held enormous potential.
A decade ago, San Francisco community leaders used a $1 million gift from Levi Strauss & Co. to start the Mission Asset Fund, which aims to help low-income families build financial security. "I saw the mission statement, and I was like, 'I love it! But how do you do that?' " Quiñonez says. "I didn't want to just provide another financial education class in Spanish with a glossy brochure." He was hired in 2007 and built a pilot program to test his lending circle idea. As the program grew, MAF developed a technology platform on Salesforce.com that creates promissory notes and services loans. The platform is now licensed by 50 nonprofits in 17 states.
MAF was unique in offering loans with the expectation that customers would succeed and pay them off on time. "A lot of the business models for low-income loans are predicated on a certain percentage of people defaulting," Rademacher says. MAF now offers other modest loans—many $1,000 or less—to address common pain points among the poor. The fee to file naturalization papers, for example, is $725. It's small hurdles like these that can prove huge barriers for immigrants.
Before it's here, it's on the Bloomberg Terminal.
LEARN MORE