business
Discovery to Pay $2 Billion to Distribute PGA Tour Globally
By
Twelve-year pact includes development of Netflix-like service

Half of top 50 golfers in the world are from outside the U.S.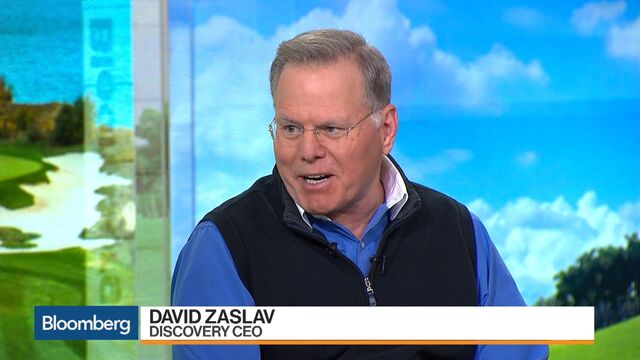 Discovery Inc., owner of cable channels including HGTV and Animal Planet, agreed to pay $2 billion for long-term international TV rights to the PGA Tour, part of the media company's push to become a global force in live sports.
The 12-year deal, which begins next year, includes TV and online rights to the U.S.-based men's golf circuit and the development of a Netflix-like video service. It covers more than 140 tournaments a year, including about 40 PGA Tour events.
While known for unscripted programming like "Shark Week," Discovery is focused on becoming a global TV sports giant. It has acquired a trove of intellectual property, including the European rights to the Olympics through 2024 for $1.4 billion. Alex Kaplan, a former NBA executive hired by the company last year, will oversee Silver Spring, Maryland-based Discovery's business with the tour.
"We think the PGA Tour is the most compelling international sports IP in the world," said David Zaslav, Discovery's chief executive officer.
Discovery will distribute tour events on its regular TV channels and a new streaming service. The tour puts on events 43 weeks a year, so fans would have a reason to keep coming back, Zaslav said. Discovery also will sublicense rights in some markets.
Discovery's rights payments will be about $50 million a year in 2019 and 2020, rise to $100 million in 2021, and then continue to increase through 2030.
TV Ratings
In the U.S., the PGA Tour airs on CBS or NBC and the Golf Channel, owned by Comcast Corp.'s NBCUniversal. Those deals run through 2021, according to tour commissioner Jay Monahan.
The deal could help the tour reach new fans around the world. While the number of Americans playing golf has declined, TV ratings have risen lately with the return of Tiger Woods following back surgery.
The PGA Tour has 85 players from 25 countries. Half of the top 50 golfers in the world are from outside the U.S., including Jon Rahm from Spain and Hideki Matsuyama from Japan. Two PGA Tour players were born in China.
"We think that is a market with enormous growth potential," Monahan said. Discovery's broadcast experience will help "tell the world and our Chinese fans the stories of these two individuals outside the ropes and build their stardom."
(
Updates with value of rights payments in sixth paragraph, marketing expenses in ninth paragraph.
)
Before it's here, it's on the Bloomberg Terminal.
LEARN MORE