markets
All Eyes on Italy Auction to Gauge If the Bond Storm Has Passed
By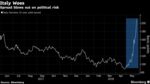 Is the worst over for Italian bonds? The nation's debt auction on Wednesday could provide a clue or two.
The debt office plans to issue up to 1.75 billion euros ($2 billion) five-year bonds, 2.25 billion euros of 10-year debt and 2 billion euros of 2025 floating-rate notes. The bidding deadline is 10 a.m. in London, with results due about 30 minutes later. The five- and 10-year offers will be particularly in focus, with the maximum supply seen as equivalent to a combined 24,470 Italian bond futures or 2.5 million euros of risk per basis point move.
The auction could still sail through, given potential support from a bond redemption of 18.5 billion euros due on Friday. Intesa Sanpaolo SpA is the largest investor in that security, and domestic lenders typically reinvest maturity proceeds. Also, investors may take use the sale as an opportunity to buy in larger sizes than afforded in secondary markets.
Italian debt is set for the largest month-end index extension among European peers, according to Morgan Stanley, and should see passive index investors re-balance portfolios. It may easily be overlooked, but the nation's securities now offer the highest yields for any major sovereign, excluding Greece.
Both the five- and 10-year securities on offer were last sold on April 27, when the five-year note saw demand slipping to 1.36 times the offer size from 1.78 previously, and overbidding of 1 cent. The 10-year had seen slightly improved appetite with the bid-to-cover ratio rising to 1.38 from 1.30, and 5 cents of overbidding.
Italy sold 5.5 billion euros of six-month bills on Tuesday at a bid-to-cover of 1.19, the lowest since April 2010. The meltdown in Italian assets has rendered any relative-value evaluation of the auction bonds mostly irrelevant. For example, using carry and roll analysis, investors would have lost three months of profits on Tuesday alone.
Before it's here, it's on the Bloomberg Terminal.
LEARN MORE