markets
Stocks Drop, Bonds Rally as Italy Woes Jolt Assets: Markets Wrap
By
Italian bonds plunge, euro slides as political risks mount

Europe drives global equity losses; haven assets in demand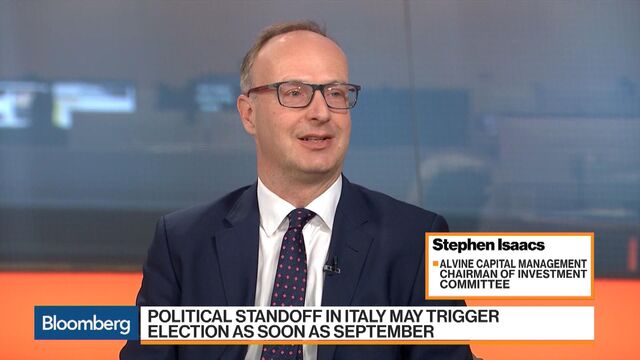 U.S. stocks tumbled the most in more than a month, joining a global equity selloff sparked by concern Italy's political woes will destabilize Europe. Treasuries surged, oil plunged and the yen rallied.
Selling in American equities picked up pace after European shares closed with the worst drop since March. Bank shares paced the rout as the 10-year Treasury yield sank as much as 17 basis points, the most since the U.K. voted to exit the European Union in June 2016. The dollar climbed as the euro plunged to its lowest since July 2017. Stock volatility soared and investors sought haven assets from the yen to the Swiss franc.
The prospect that Italy might need a fresh election that could be a referendum on the nation's inclusion in the euro zone rattled global financial markets. While U.S. assets looked like they'd avoid the worst of the selling, the risk-off tone gripped investors as Europe staggered to an ugly close. Investors are also keeping an eye on geopolitical issues, with the Trump administration giving conflicting signals on talks with North Korea and plowing ahead with plans for tariffs on Chinese goods.
Here's a Roundup of Italian Political Turmoil and its Impact on Markets

Political turmoil in Italy is rekindling memories of the euro zone's woes of the past decade, and caution is spilling over into global markets. Pro- and anti-European forces are at loggerheads in Rome, with another election expected as early as September after parties failed to form a government in the wake of a poll in March.
"The political situation in Italy is troublesome and then you get broader concerns about the strength of the euro market in general and that in turn has some people thinking maybe the Fed here in the U.S. slows down on raising rates," Peter Jankovskis, co-chief investment officer at Oakbrook Investments, said by phone. "That's been a big pillar for the financials overall, that rates will continue to rise and their margins will continue to improve because of that."
Why 'Risk On' and 'Risk Off' Are How the Markets Roll: QuickTake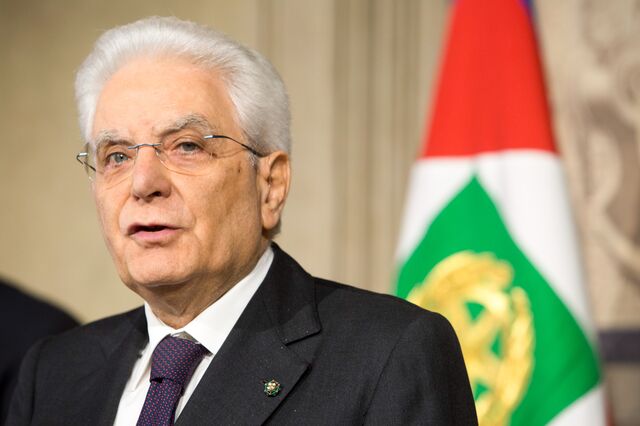 Terminal users can read more in Bloomberg's Markets Live blog.
These are some key events to watch this week:
EU trade chief Cecilia Malmstrom and U.S. Commerce Secretary Wilbur Ross are scheduled to meet Wednesday in an informal World Trade Organization ministerial in Paris.
The U.S. employment report for May is due Friday. It's the last before the June Fed meeting.
Automakers report May U.S. sales the same day.
Also Friday: China's stock market joins MSCI Inc.'s global indexes.
On Saturday U.S. Secretary of Commerce Wilbur Ross will travel to Beijing for more talks with Vice Premier Liu He on topics including ZTE Corp. and trade.
These are the main moves in markets:
Stocks
The S&P 500 Index declined 1.2 percent to 2,689.87 as of 4 p.m. New York time, dropping below its 100-day moving average for the first time since May 9.
The Nasdaq Composite Index dropped 0.5 percent.
The Stoxx Europe 600 Index sank 1.4 percent to the lowest since April.
The U.K.'s FTSE 100 Index fell 1.3 percent, the most since March.
Germany's DAX Index decreased 1.5 percent, the most since the end of March.
The MSCI Emerging Market Index slid 1.2 percent to the lowest since December 2017.
Currencies
The Bloomberg Dollar Spot Index rose 0.4 percent to the highest in more than five months.
The euro sank 0.8 percent to $1.1536, the weakest in more than 10 months.
The British pound declined 0.5 percent to $1.3242, the weakest in about six months.
The Japanese yen climbed 0.7 percent to 108.64 per dollar, the strongest in five weeks.
Bonds
The yield on 10-year Treasuries declined 15 basis points to 2.78 percent, reaching the lowest since April 2.
Germany's 10-year yield dipped eight basis points to 0.26 percent.
Britain's 10-year yield fell 13 basis points to 1.197 percent.
Italy's 10-year yield climbed 48 basis points to 3.164 percent.
Commodities
West Texas Intermediate crude declined 1.6 percent to $66.82 a barrel, reaching the lowest in four weeks.
Gold rose 0.2 percent to $1,301.22 an ounce.
— With assistance by Anooja Debnath, Sarah Ponczek, and Samuel Potter
Before it's here, it's on the Bloomberg Terminal.
LEARN MORE