politics
Trump Risks $3.45 Billion Tariff Bill From Jilted Trade Partners
By
Nations prepare to retaliate against U.S. metals levies

European Union threatens additional $1.6 billion in duties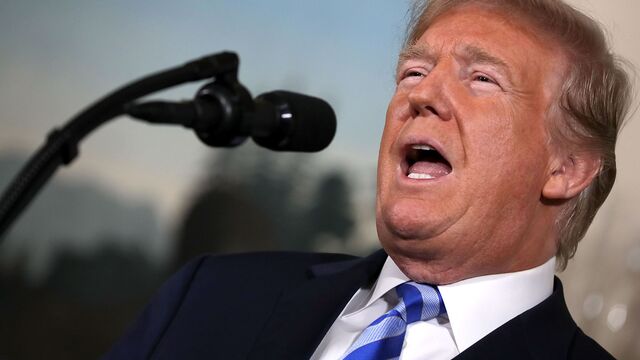 President Donald Trump's maximalist approach in recasting his nation's trade relations may soon hit U.S. farmers and manufacturers, as America's trade partners prepare retaliatory tariffs that could generate $3.45 billion in revenue.
In just the past week, the European Union threatened $1.6 billion of additional levies in response to U.S. tariffs on metal imports; Russia prepared $537.6 of added duties; Turkey $266.6 million; Japan $264.3 million; and India $165.6 million, according to filings with the World Trade Organization. China already imposed $611.5 million of additional retaliatory tariffs.
To read more about the EU's trade conflict with the U.S., click here
Citing national security concerns, the U.S. imposed import duties of 25 percent on steel and 10 percent on aluminum in March, giving regions including the EU, Mexico and Canada temporary exemptions while they negotiate alternate resolutions. While the EU has indicated a willingness to discuss means of resolving global steel overcapacity, European leaders have said they won't begin negotiations until Trump has provided a permanent exemption on the metals tariffs.
"As a matter of principle, we will talk about everything with a friendly country that respects WTO rules," French President Emmanuel Macron said immediately after the U.S. tariffs were enacted. "But, by the same principle, we won't talk about anything while there's a gun pointed at our head."
The countries that have filed preliminary complaints with the WTO are seeking to pressure the Trump administration to withdraw the metal duties by specifically targeting U.S. goods that are produced by voters in states that sent Trump to the White House.
Harley-Davidson Inc. and bourbon are both on the list of goods specified by the EU, pressuring Republican speaker of the House of Representatives Paul Ryan, who hails from the Wisconsin home of the motorcycle maker, and Senate Majority Leader Mitch McConnell, from Kentucky, where the whiskey is made.
The EU's exemption from the metals tariff expires on June 1 and the EU isn't sanguine on receiving another extension.
"I don't think the exemptions will be prolonged," European Trade Commissioner Cecilia Malmstrom said on Tuesday. "We have to prepare for different scenarios."
(
Updates with China levies in second paragraph. A prior version of this story corrected a description of the tariffs.
)
Before it's here, it's on the Bloomberg Terminal.
LEARN MORE