technology
Sony Car? New CEO Has Always Wanted to Work on Moving Things
By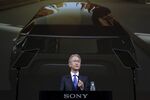 Sony Corp.'s new chief executive officer is interested in taking the Japanese electronics maker in an entirely new direction: moving objects.
Kenichiro Yoshida, who took over in April, said on Wednesday that he's always wanted to work on "moving objects," adding that it's far too early to say whether Sony will enter the space.
"Through our semiconductors, we're actually already a company that helps to power things that move and, to be honest, I kind of want to create things that move," Yoshida told reporters at a roundtable interview in Tokyo. "Ever since I was the chief financial officer, I asked whether we can work on a golf cart or a Roomba."
While Sony does in fact have transport-related projects, such as its SC-1 shuttle concept and a taxi-hailing alliance announced earlier this year, the Tokyo-based company has never expressed any interest manufacturing gadgets that can ferry people or are autonomous. Still, it's not a leap of imagination to picture a Sony electric automobile. Dyson Ltd., the vacuum cleaner maker, surprised everyone in September when it unveiled plans to build an electric car by 2020, putting one billion pounds ($1.3 billion) behind the effort.
"It's still too early to say whether there's something tangible," said Yoshida, who chuckled as he spoke about his desire to work on such products.
Asked specifically about his aspirations for a Sony car, he said: "It's probably not something I can deliver during my tenure, but I want to begin working on something for the longer term."
Before it's here, it's on the Bloomberg Terminal.
LEARN MORE