markets
Currencies Sink Most in Year as Argentine Peso Gains: Inside EM
By
MSCI EM currency gauge trades near its 200-day moving average

Equities halt 6-day advance as technology companies slump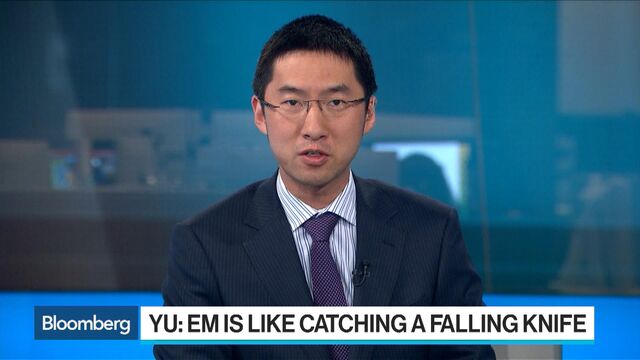 Emerging-market currencies slumped the most in a year as the U.S. dollar climbed with Treasury yields and geopolitical concern escalated, adding to an already fragile outlook in some of the major developing countries. Stocks halted a six-day rally, led by technology companies.
Twenty three out of 24 emerging-market currencies tracked by Bloomberg fell, and MSCI's broad gauge briefly slipped below its average price of the past 200 days -- an indicator seen as a harbinger for more losses. Turkey's lira hit a record low after President Recep Tayyip Erdogan said he plans to take more responsibility for monetary policy if he wins an election. South Africa's rand sank as the country sold its first Eurobond under President Cyril Ramaphosa. Meanwhile, Argentina's peso posted the only gain among peers amid a rollover auction of as much as $30 billion of notes.

Traders pushed down the value of emerging markets as strong U.S. retail sales data bolstered bets the Federal Reserve will raise rates three more times this year -- dimming the allure of riskier assets. Meanwhile, the International Monetary Fund warned that a surge in protectionism could sap the momentum of the global economy as the U.S. and China continue talks aimed at defusing a trade dispute. The escalation of violence in the Middle East and news that North Korea is suspending "high-level" talks with South Korea scheduled for Wednesday also weighed on sentiment.
Rising borrowing costs, a dollar rally and steeper oil prices could exacerbate current-account shortfalls already being felt in some of the biggest developing economies, according to Nomura.
"Even if we are right that global growth is holding up, this is likely to be only a brief respite for EM," analysts at Nomura including Rob Subbaraman andYoung Sun Kwon wrote in a report last week. "In our mind, Q3 2018 is the high-risk quarter for a painful EM snapback".
Highlights:
MSCI Emerging Markets Currency Index extended two-day slide to 1%
Measures of technology and financial shares each fell at least 1.9%
CBOE's gauge of developing-nation stock volatility surged 11%
Risk premium on EM sovereigns +1bps to 322bps: JPMorgan indexes
UPCOMING EVENTS WEDNESDAY:
Brazil's central bank may cut its key interest rate for a 13th straight meeting to a record-low 6.25 percent, as inflation has stayed below the target range for 10 months
China 70-city home prices
South Korea unemployment
Thailand rate decision
Poland rate decision
South Africa retail sales
Turkey industrial production
For a list of the day's biggest earnings releases, click here
LATAM:
ARGENTINA:

Peso gained 3.9 percent to 24.05 per dollar
Merval Index increased 0.8 percent to 30,677.02
"The slide in the peso in the last few days was from local players and foreigners were waiting for the peso to adjust to enter," said Alejo Costa, BTG Pactual Argentina's chief strategist, said. "The bond sale news was interesting enough to encourage an entry point"
Argentina to Decide What IMF Conditions it Accepts: Pena
Turmoil Makes MSCI Index Decision Difficult: Reuters
As Argentina Crumbles, Emerging Markets Also at Risk: Moody's

MEXICO:

Mexbol index dipped 0.5 percent to 46,280.96
Peso declined 0.2 percent to 19.6701 per dollar
10-year local-bond yield rose 10 basis points to 7.8 percent
Trudeau Says a Nafta Deal is 'Very Close' But No Deal Done Yet
Kudlow Says Nafta Deal Is Test of Trump Trade Cooperation
Traders See Time Running Out for Nafta Deal to Save Peso
Nafta Deal by Thursday Not Likely: Mexico's Minister Guajardo
Mexico's chief negotiator Kenneth Smith Ramos tells Radio Formula he thinks there is a 7 out of 10 chance of striking a Nafta deal this month
Don't Just Bet on AMLO Win in Mexico, Says UBS. Think Landslide

BRAZIL:

Ibovespa dipped 0.3 percent to 84,989.75
Brazilian Real declined 1 percent to 3.66 per dollar
10-year local-bond yield gained 10 basis points to 10.24 percent
The plunge in Brazil's real has lifted expectations for the central bank to become more hawkish in its messaging and signal the end to the easing cycle
Even if the trigger for the Brazilian real slide is external, homemade problems justify a weaker currency, complicating tomorrow's central bank decision on interest rates, according to Commerzbank

"Would be a little naïve" to dismiss recent real movement as temporary and ignore it, analyst You Na Park-Heger writes in note

Brazil to Change Statement on Monetary Easing: Top Forecaster
Bears on Prowl in Brazil, BofA Fund Manager Survey Shows

Click for market news on ANDES
EMEA:
TURKEY:

Borsa Istanbul 100 Index fell 1.8 percent to 101,540.39
Lira declined 1.9 percent to 4.4515 per dollar
10-year local-bond yield gained 172 basis points to 14.26 percent
Erdogan's comments are spoiling bets that a meeting at his palace last week with economic policy makers -- including central bank governor Murat Cetinkaya -- would open the way for rate increases that some investors say are necessary to backstop the nation's assets
Turkey Misses Bond Borrowing Target as Lira Selloff Deepens
Economy is overheating and a lack of effective monetary-policy response to increasing inflationary pressures is affecting the central bank's credibility, according to Moody's

SOUTH AFRICA:

FTSE/JSE Africa All Share Index fell 1.2 percent to 57,891.77
Rand declined 2 percent to 12.5759 per dollar
9-year local-bond yield gained 15 basis points to 8.485 percent
Africa's most industrialized economy raised $2 billion from notes maturing in 2030 and 2048 priced at 5.875 percent and 6.3 percent respectively, according to a person familiar with the transaction, who asked not to be identified
"They have a good window to issue now, on the back of policy decisions and year-to-date reforms," said Richard Segal, a senior analyst at Manulife Asset Management in London
More South African Money Managers Favor Cash: BofAML Survey
South Africa's Jobless Rate Persists Near a 15-Year High

RUSSIA:

MOEX Russia Index dipped 0.9 percent to 2,337.03
Ruble declined 0.7 percent to 62.2775 per dollar
10-year local-bond yield rose three basis points to 7.37 percent
The latest round of U.S. sanctions and waning momentum last quarter killed the hopes of the last remaining optimists that Russia's economic recovery might just turn out better this year
Four-Month Budget Surplus Expanded Less Than Estimated
Russian Billionaires Trade Barbs as Potanin Testifies in Court

Click for market news on POLAND and HUNGARY
ASIA:
CHINA:

Shanghai Composite Index rose 0.6 percent to 3,192.12
Offshore yuan declined 0.5 percent to 6.3662 per dollar
10-year local-bond yield gained one basis point to 3.72 percent
Economic momentum broadly held up in April with industrial production exceeding forecasts, though slowing investment signaled moderation in the coming months
U.S. companies and business groups are lining up to oppose the Trump administration's plan to slap tariffs on Chinese imports
Liu He Returns to Trump's Turf to Resume Trade Talks
China Says It Allows FX Forwards Trading Under Capital Account
Tencent Shares Suddenly Lose $17 Billion One Day Before Earnings

INDIA:

Sensex Index little changed at 35,543.94
Rupee fell 0.9 percent to 68.108 per dollar
10-year local-bond yield gained eight basis points to 7.9065 percent
A last-minute move by the main opposition party to keep Prime Minister Narendra Modi's Bharatiya Janata Party from wresting control of a key southern state flattened the biggest stocks rally in three months
"Investors are wary that the BJP might just fall short of the number required to form the government and this has pulled back the market," said Sushant Kumar, a fund manager at Raay Global Investments in Mumbai. "The volatility will persist until there is certainty of who forms the government"
Bitter Election Fight in Southern India State Goes Down to Wire

Click for more on markets in ASIA
For more on emerging markets:
Before it's here, it's on the Bloomberg Terminal.
LEARN MORE