politics
Hamas Vows to Keep Targeting Fence After Gaza Bloodshed
By
Palestinians to converge again on border with Israel

Monday's confrontations were bloodiest in Gaza since 2014 war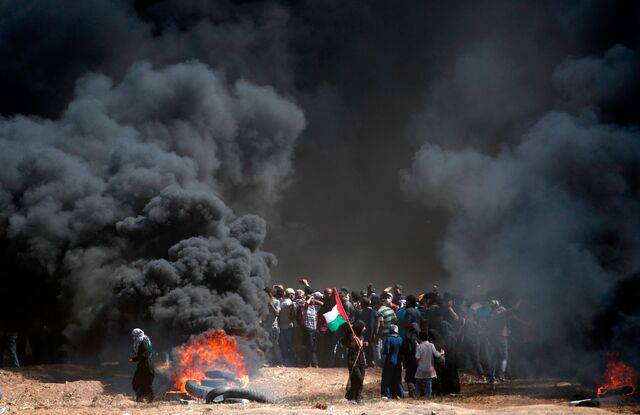 Hamas vowed to keep protesters storming the Gaza border on Tuesday, a day after 59 Palestinians were killed in confrontations with Israeli troops, the bloodiest toll in the seaside territory since a 2014 war.
Monday's casualties, which included more than 1,200 people wounded by live fire, were a stark contrast to the festivity of President Donald Trump's inauguration of a U.S. embassy in Jerusalem. More than 100 Palestinians have been killed since Gazans began a campaign of weekly protests March 30 to draw attention to conditions in the enclave. Gaza has been under Israeli and Egyptian blockade since Hamas, considered a terrorist group by much of the West, took power in 2007.
The U.S. decision to relocate its embassy from Tel Aviv was a diplomatic victory for Israel but a blow to the Palestinians, who say it undermines their own claim to east Jerusalem as a future capital. Direct peace talks have been stalled for years but Palestinians say the embassy move further hurts chances of a breakthrough.
"Jerusalem is a red line and for it we will continue our resistance," Khalil al-Hayyah, the deputy leader of Hamas, said at a news conference in Gaza City. "We must show respect to the martyrs who shed their blood to fight the transfer of the U.S. Embassy."
Palestinian Authority President Mahmoud Abbas broke off all contact with the Trump administration after the embassy move was announced in December. On Monday, Abbas called the new embassy, located in west Jerusalem, an "American settlement."
Egged on by loudspeakers and transported in buses, Gazans streamed to the border with Israel, where some threw rocks, burned tires, and flew kites and balloons outfitted with firebombs into Israeli territory.
Israel accuses Hamas of using the protests as cover to attack the Jewish state, and has vowed to prevent any attempts to breach the border. The Palestinians accuse the Israeli military, which reported no serious casualties, of firing indiscriminately.
Why U.S. Embassy Move to Jerusalem Fuels So Much Fury: QuickTake

Carnage and Celebration
Scenes of stone-throwing Palestinians surrounded by the black smoke of burning tires contrasted starkly with the celebratory atmosphere at the embassy inauguration in the Jerusalem neighborhood of Arnona, where streets were draped with U.S. and Israeli flags and posters saying, "Trump: Make Israel Great." Pro-Palestinian demonstrators waiting outside the embassy gave the finger to buses carrying guests to and from the event.
The president said in a video message that the move doesn't prejudge the contested city's final status and said the U.S. remains committed to helping the sides achieve peace. The move has angered much of the Middle East and disappointed European allies.
Later Monday, South Africa recalled its ambassador for consultations given the day's casualty toll. Turkey recalled its envoys from both Israel and the U.S.
White House spokesman Raj Shah called the protests a "gruesome and unfortunate propaganda attempt" and said responsibility for the deaths "rests squarely with Hamas."
Why Palestinians Demand a 'Right of Return' to Israel: QuickTake
Palestinian Displacement
The embassy inauguration was timed to coincide with the 70th anniversary of Israel's independence but also came a day before Palestinians mark the "nakba," or "catastrophe," of their displacement by Israel's birth.
The "March of Return," as the weeks-long protest movement is known, began as an effort by grassroots groups to draw attention to their plight as refugees but was quickly co-opted by Hamas, which was eager to divert popular anger away from its management of Gaza.
— With assistance by Amy Teibel, Jonathan Ferziger, David Wainer, Michael Arnold, Toluse Olorunnipa, Alisa Odenheimer, and Fadwa Hodali
(
Updates death toll in first paragraph.
)
Before it's here, it's on the Bloomberg Terminal.
LEARN MORE