markets
Yale to Review Puerto Rico Ties, Fossil Fuel Bets After Protests
By
Endowment will produce position papers, according to report

CIO Swensen criticized student paper's endowment coverage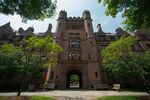 Yale University's endowment is listening to student activists.
The $27.2 billion fund is looking at four issues that students have criticized -- fossil fuels, private prisons, Puerto Rico's bonds and a New Hampshire power line. The controversies spilled over into a spat between David Swensen, the fund's chief investment officer, and the student newspaper, Yale Daily News, over coverage of investments.
The investment office is "working on position papers addressing each of the four issues at the center of the school's student activism," according to Institutional Investor. It's too soon to say whether or how the papers would be disseminated, according to the publication.
It's also unclear what the investment office would do with the results. Swensen and a university spokesman didn't immediately reply to emails or phone calls seeking comment.
Little Disclosure
U.S. college endowments hold almost $600 billion in assets, and Yale has the second-largest in higher education, behind Harvard. Private schools including Yale disclose little about their portfolios, often for competitive reasons. Student activists at New Haven, Connecticut-based Yale have examined the endowment's investments and called for the sale of certain holdings.
Some of those assets include fossil fuels and Puerto Rico debt held by an outside money manager, hedge fund Baupost Group.
The school's advisory committee on investor responsibility reviewed the Puerto Rico matter following a directive in October from Yale President Peter Salovey. "We have not seen any facts or factual allegations that Baupost has engaged in any unethical debt collect practices with respect to its holding in these securities," Jonathan Macey, a Yale law professor and chairman of the committee, said in an interview in February.
Read More: Baupost's Puerto Rico Debt Holdings Targeted in Campus Protests
In August 2014, Swensen wrote to the fund's external investment managers, asking them to assess the costs of climate change on their investments, following a university-wide effort to address sustainability. Swensen said in 2016 that the fund sold less than $10 million in investments in fossil-fuel companies that were "inconsistent with our principles" of a sustainable environment.
Northern Pass
Activists also have protested a power line called the Northern Pass, which is proposed to run through timberland Yale owns in New Hampshire.
Read more about Yale endowment's big timber bet
Swensen has run the endowment for more than 30 years and is considered a pioneer in institutional investing. He wrote an opinion piece for the student paper in March criticizing its coverage of activists who claimed the fund invests in private prisons. "Yale's endowment has no exposure to private prison management companies," Swensen wrote.
His spat with the paper continued after a sentence in the op-ed he wrote was deleted without his permission because editors said it was incorrect. The paper published an email exchange in which Swensen called the editor-in-chief a "coward" and asked if she understood "simple English."
He later apologized for the harsh language, but hasn't backed down on his criticism.
Before it's here, it's on the Bloomberg Terminal.
LEARN MORE