politics
Merkel Says Trump's Iran Deal Withdrawal Harms Trust in Global Order
By
German leader widens her critique of 'America First' stance

'Bad news' for world if countries simply to what they want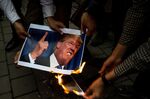 German Chancellor Angela Merkel stepped up her criticism of U.S. unilateralism, saying President Donald Trump's decision to withdraw from a nuclear accord with Iran "damages trust in the international order."
While the accord has flaws and failed to address Iran's ballistic missile program and involvement in Syria, "nevertheless, I believe that it's not right to unilaterally cancel an accord that was negotiated, that was confirmed in the UN Security Council unanimously," Merkel said in a speech on Friday at a religious conference in Muenster, Germany.

It was the broadest critique yet by the German leader, who unsuccessfully sought to sway Trump during a visit to Washington in April. Trump's actions are throwing the multilateral global order into "real crisis," said Merkel, also citing his withdrawal last year from the Paris climate accord and the U.S. administration's efforts to sidestep global trade rules.
Read more: Merkel Says Europe Can't Count on U.S. Military Umbrella Anymore
"If we always say that something doesn't suit us, and we don't get a new international order, and everybody simply does what they want -- then that's bad news for the world," Merkel said.
The comments dovetail with Merkel's conclusion that the U.S.'s leading role in the post-World War II order is becoming fragile and that Europe must forge its own path. In a speech Thursday honoring French President Emmanuel Macron, she said Europe can no longer count on the U.S. for military protection and must "take its destiny into its own hands."
Before it's here, it's on the Bloomberg Terminal.
LEARN MORE