Personal Finance
Is the Long Bull Market Tired Out?
Investors are worried that good news can't get better and are looking for signs of trouble.
By and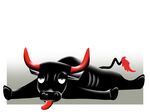 One of the things that's been making professional traders nervous this year: you. Or at least individual investors a bit like you. In March daily trades from just two retail brokers—E*Trade Financial Corp. and TD Ameritrade Inc.—accounted for more than a quarter of the volume on the New York Stock Exchange.
Small investors' recent interest in stockpicking stands in contrast to the long-term trend in a bull market that's more than nine years old. For the most part, Main Street hadn't seemed all that interested in Wall Street—investors were gravitating to index funds and exchange-traded funds that let them ignore stockpicking and just ride the market. "The individual investor returned in a big way over the past year," says Jason Goepfert, president of Sundial Capital Research Inc. "That is typically a contrary sign, suggesting a mild negative for stocks."
If it looks like the pros are trying to find the bad news in a pile of solid economic data, they're really just trying to make sense of a market that's psychologically edgy. It was on his daily subway ride from Manhattan's Upper West Side, where he works in the morning before heading to his downtown office, that Donald Selkin started feeling queasy. Day after day, rallies that looked bulletproof when he got on the train were gone when he got off. "That was the moment I thought, 'This is going to be a bit of a difficult year,'" says Selkin, chief market strategist at Newbridge Securities Corp.
A bull market within spitting distance of being the longest ever just isn't what it used to be. Among traders, the adage to "buy the dip" has become sell on the pop—that is, use any rise in the market to take some money off the table, before it drops again. The S&P 500 has fallen in the afternoon more than half the time since mid-March. First it was February's brief but hair-­raising drop, when volatility returned to the markets. The market rebounded but fizzled in March, when the S&P 500 recorded its first back-to-back monthly declines in a year. Now it's May and stocks are roughly where they began the year, despite one of the best earnings seasons ever.
With projected growth of 17 percent coming into the period, companies were poised for the best profit increase in seven years. They ended up doing significantly better: Eighty percent delivered results that beat forecasts, the most in a quarter century. But companies in the S&P 500 have seen their shares fall by 0.3 percent on average the day after reporting results.
Investors have dealt with turbulence before. There have been at least five corrections this bad or worse since the bull market began. But not when things were going so well in earnings and the economy. Corporate profit growth has been too robust to seem repeatable—the buzz-phrase making the rounds on Wall Street is "peak earnings."
The realization that something had changed hit Vincent Delisle like a tractor two weeks ago. A Caterpillar tractor, to be exact. He'd been out west, meeting with clients of Scotiabank on the morning of April 24. Caterpillar Inc. shares started off great that day following stellar earnings—they were up almost 5 percent. Just as fast, they sputtered and reversed, ending the day with their worst decline in two years. Why? Perhaps because the company also said those earnings "will be the high watermark" for the year. "You're getting earnings that are blowing out estimates and are phenomenal, and the market is not happy," Delisle says. "This is an illustration of when the positive story is all priced in. It's hard to do anything to surprise the market."
The threats all have the same ring: There's too much good news, so what if it's all downhill from here? Ten-year Treasury yields, stuck below 3 percent for six years, crossed that threshold in late April and have hopped around it since then. Higher rates are generally a sign that the economy is returning to health, but they can also make bonds a somewhat more attractive alternative to stocks and mean higher borrowing costs. In the low-rate environment, companies leveraged up—and the ones with the most debt are suddenly pariahs with equity investors.
But here's the thing: Earnings growth may be about to slow, but S&P 500 income is still projected to rise 10 percent in 2019 and 2020. Price-earnings ratios based on those earnings are smack in the middle of the historical average. There's also no sign companies are getting stingier with share repurchases. "Using a baseball analogy, we're in the ninth inning of the bull market, but we are dealing with a very bad pitcher," says Delisle—­meaning this thing could go for a long time before the bull strikes out. There's no rule that says a rally has to end just because it's been going for a while.
Individual investors who tuned out the exuberance of recent years may want to ignore Wall Street's current angst as well. Turns in the market are hard to call, and most people are better off picking a strategy they can stick with through the ups and downs. But the past few months are a reminder that owning stocks does require a little steel. "I try to help clients understand that this volatility is just part of the game," says Peter Waterloo, a senior portfolio manager at UBS Wealth Management USA. "And the fact that we had low volatility for a long period is not the norm." —With Lu Wang
BOTTOM LINE -
Corporate America has been turning in terrific earnings, but the market is focused on rising interest rates and the return of volatility.
Before it's here, it's on the Bloomberg Terminal.
LEARN MORE