Business
A Mideast Energy Giant Seizes New Energy Future
Abu Dhabi's Adnoc has the same challenges as Saudi Arabia's Aramco—but is planning for the future in different ways.
By and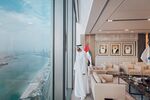 Behind the 65-story glass tower that houses the shiny new headquarters of Abu Dhabi National Oil Co. sits a remnant of the Middle Eastern emirate's not-so-distant past: the squat, sand-colored building that the government-owned energy giant once called home.
The stark contrast between the old and new buildings provides a hint of the changes afoot in energy-rich Abu Dhabi. The tiny, but stratospherically wealthy, emirate is trying to forge an economy for a post-oil world and needs to wring more profits from its petroleum industry to finance the makeover.
A similar shift is taking place in neighboring Saudi Arabia, where Adnoc's larger rival, Saudi Aramco, plans to sell shares for the first time. With a projected $2 trillion valuation, Aramco is set to have the world's biggest initial public offering. Adnoc also wants to secure an economic future for its government owner after the hydrocarbons run out, but it's treading a different path. "Adnoc has always been seen as a stodgy, slow-moving company," says Robin Mills, chief executive officer of consultant Qamar Energy. "Now they're striving to set up a strategy and actually implement it. It's still a work in progress."

The man in charge of revamping Adnoc and managing its 50,000 employees is Sultan Al Jaber, who became CEO in 2016. His effort has an existential urgency, because Abu Dhabi—like Saudi Arabia—offers something the world apparently has too much of: oil. The boom first fell in 2014, when the price of crude plunged by more than half, breaking a string of $100-per-barrel years that had engorged budgets and bred complacency across the Gulf.
Since 2017, the United Arab Emirates, of which Abu Dhabi is the capital, has taken part in the Organization of Petroleum Exporting Countries program to constrain output to prop up prices. Now—even as it's limiting Adnoc's revenue to satisfy OPEC—it's also revamping the national oil giant and pitching the company to foreign investors to tap the capital and technology needed for its transformation.
"What became evident in 2014 and 2015 was the fact that the energy market is no longer what it used to be," Al Jaber says. "You can no longer be dependent on only oil prices. Adnoc had to come to terms with the realities on the ground."
Since its founding in 1971, Adnoc has been synonymous with the oil wealth that thrust the U.A.E. into modernity. Oil revenue made possible Abu Dhabi's glittering cityscape. It helped keep the lights on for Dubai, too: Abu Dhabi bailed out its neighbor after the 2008 financial crisis. Meanwhile, some of the gas that Dubai buys to keep its shopping malls and hotels bright and cool also flows through Abu Dhabi-owned pipes.
For much of its five-decade history, Adnoc has sold crude to the mostly Western companies that help pump it, or to traders that flipped their cargo for profit in Asia or the Mediterranean. Refiners in those countries turned that oil into gasoline and diesel or feedstock for chemical plants to produce plastics and other petroleum derivatives.
But talk in the global energy markets has moved from peak oil—concern that reserves were doomed to run out—to peak demand—forecasts of continuing oversupply. Oil producers are being buffeted by declining prices and uncertainty over the future direction of their business.
So Abu Dhabi has decided to build a hedge against the shifting energy market by pushing Adnoc to get involved in the entire supply chain, alongside the oil majors and traders. The hope is that by dangling access to the emirate's oil reserves—the U.A.E. has about 6 percent of the world's crude—Adnoc can bring in the funds and expertise that will help contribute to the broader national economy.

"Abu Dhabi is reinvesting for development and to expand the economy," says Hootan Yazhari, Bank of America Merrill Lynch's chief Middle East markets analyst. "The question of whether there is urgency to do this depends on your view of oil. By 2030, oil is unlikely to be where it is today."
In an effort to ensure Adnoc has long-term buyers for all its oil, Abu Dhabi over the past two years let Chinese and Indian companies participate in its main oilfield concessions for the first time, alongside historic allies such as Exxon Mobil, Total, and BP. On the downstream side of the energy business, it wants to eke out more dollars per barrel of crude by turning its oil into refined fuels and products such as plastics and chemicals.
The company is also looking to make its first foreign investments in similar plants abroad where local demand is growing fastest. To finance that expansion and entice lenders and investors to the emirate, Adnoc in 2017 sold bonds for the first time as well as a sliver of equity—a 10 percent stake—in its gas station unit.
All of this invites the inevitable comparison with Aramco. Saudi Arabia's Crown Prince Mohammed bin Salman is determined, like Abu Dhabi's Sheikh Mohammed bin Zayed, to maximize his country's oil-related income and use proceeds from asset sales to build new industries and help workers develop more sophisticated skills. But while the strategy is the same, the tactics and timelines differ.
Adnoc's "not going in the same direction as Saudi Aramco," Bank of America's Yazhari says. "Abu Dhabi doesn't have an immediate need to list Adnoc given its healthy economic balances. What they need to focus on is increasing access to investors. By listing smaller units, they can boost liquidity and trading on the domestic stock market, and that can help the country as a whole."
Instead of selling equity at the holding company level as Aramco plans to, Adnoc raised $851 million from the sale of the minority stake in the service station business. Adnoc's code name for the IPO was "Project First," because, as Al Jaber says, it will be "the first of many." While selling shares in Adnoc itself isn't planned, almost every other financial move is being entertained.
"Whether it is a financial restructuring, whether it's a bond issue, whether it's a private placement, whether it is attracting strategic investors, whether it is us going through an IPO, we are looking at everything," Al Jaber says. "We have some real substantial deals that are taking place this year."
Adnoc's outreach program shifts into high gear on May 13, when it will host international oil majors, bankers, and investors to its Downstream Investment Forum to sample opportunities available in the emirate. Also on the schedule is a trip to Ruwais, where Adnoc's 817,000-barrel-a-day oil-processing complex pumps out gasoline for local drivers, as well as diesel and jet fuel destined for Europe and other markets.
Ruwais, where the vast desert of the Empty Quarter meets the waters of the Gulf, will soon become an oil-processing and petrochemicals hub. Adnoc aims to build a 600,000-barrel-a-day refinery, plus petrochemical plants that would let it triple production capacity. It plans to finance the construction and operation of all those by wooing investors and, potentially, selling a stake in its refining business to a partner.
"We're going to be announcing a series of projects," Al Jaber says. "We are going to invest heavily in Ruwais," as part of a five-year capital-expenditure plan of about $110 billion.
Whether investors will bite is another question. U.S. shale oil and gas and other new supplies are intensifying competition for Middle Eastern producers, which are shackled by OPEC's production limits. And entering competitive downstream businesses could mean large expenses and small profits if the oil majors also add capacity.
"It's not really going to revolutionize their export revenue, but it provides some hedging against the oil price risk," says Hamed Ghoddusi, of the School of Business at the Stevens Institute of Technology and the author of a recent paper on OPEC members pushing into downstream.
Back at Adnoc's gleaming headquarters, the company has installed a wall of LED panels, which provide a supercomputer-powered overview of its many operations. Alongside the bar charts showing oil output and revenue is a gauge that stands out: "Emiratization of the workforce"—a nod to Abu Dhabi's long-term ambition to make Adnoc a spearhead of both economic and societal reform for the entire U.A.E. Key to that will be weaning itself off of expatriate labor and having Emiratis account for a greater share—Adnoc won't say how large—of the company's workforce.
Creating a commercially minded and internationally competitive local workforce is difficult in a country where the citizens are accustomed to generous government handouts. One of the biggest challenges Al Jaber has faced so far has been shaking up a bureaucratic corporate culture—streamlining it into a more entrepreneurial organization, according to Haif Zamzam, a former Boston Consulting Group adviser, who joined Adnoc's strategy department. "In the past we would take on nearly zero risk. There was absolutely no room for error," Zamzam says. "Now we're introducing the idea of taking calculated risks."
While young Emiratis have voiced strong support for Al Jaber's changes, the process hasn't been without its critics. Two points of contention: Al Jaber's unprecedented job cuts and other cost-saving measures and the introduction of performance reviews.
Abu Dhabi's Crown Prince Mohammed has deployed himself more than once to show support for Adnoc's changes, posting photos of himself and Al Jaber on Twitter and state media. In February the crown prince and Al Jaber had lunch together at the Abu Dhabi branch of London restaurant Zuma with about a dozen members of Adnoc's Future Leaders Program, underscoring the kind of technologically savvy workforce the emirate wants to develop.
"With risk comes opportunity," says Saud Alshamsi, who works in the governance and value assurance department at Adnoc and is one of the members of the program. "That's what people really have to realize." —With Mahmoud Habboush
BOTTOM LINE -
Abu Dhabi for decades was content to sell its crude to foreign companies and traders. Now it wants to expand into a broader range of petroleum markets to diversify its future.
Before it's here, it's on the Bloomberg Terminal.
LEARN MORE