Adventure
America's Overlooked National Parks Showcase the Caribbean's Wild Side
By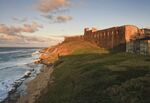 Most people in their stampede to the beach or the pool overlook the Caribbean's stunning national parks. But their historic sites and lush tropical trails offer rich rewards for intrepid visitors. We asked Will Shafroth, president and chief executive officer of the U.S. National Park Foundation, and Randy Lavasseur, group superintendent for Caribbean National Parks, to recommend their favorites.

"The snorkeling is incredible at Princess Bay in Virgin Islands National Park, St. John," Shafroth says. "I've seen sea turtles, tropical fish in every size and shape, and even eels hunkered down in mangrove roots." He also suggests a 10-minute hike along Leinster Bay Trail to the shallow, less-touristed reefs of Waterlemon Cay. Afterward, stop at the Tap Room for a refreshing coconut porter ale, brewed locally in shipping container-size batches.
At San Juan National Historic Site, Puerto Rico, the Castle of San Cristóbal's chilling, 300-year-old brick dungeon walls bear prisoner-drawn graffiti of ships dating back centuries. "The ships vary based on the era in which they were drawn," Lavasseur says. "And the dungeon still has gigantic bars."

When it comes to Buck Island Reef National Monument, St. Croix, he says, "I've never been to a more beautiful place in my life." This 176-acre atoll is surrounded by a coral barrier reef shaped like a pair of branching elk horns. "Snorkeling the underwater trail, there are hundreds of tiny blue fish flying by, leatherback sea turtles that can weigh anywhere from 600 to 1,100 pounds, and coral, the flower of the ocean. It's so epic."
Before it's here, it's on the Bloomberg Terminal.
LEARN MORE