politics
EU Fights to Keep Iran Nuclear Deal Alive After Trump's Exit
By and
Rouhani says pact still in place with all signers except U.S.

But Trump's tough line is likely to deter European business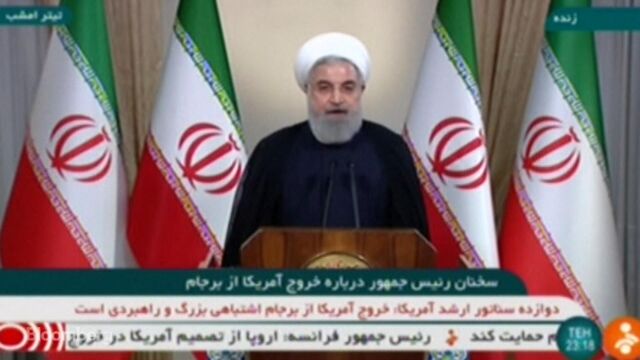 Donald Trump didn't kill the Iran nuclear deal. He just shrank its membership by one.
That was the line taken by the European Union immediately after the U.S. president announced his withdrawal from the 2015 accord. Germany, France and the U.K. all said they'll stick to their commitments. Iran's Supreme Leader Ayatollah Ali Khamenei said he wants to see them deliver.
"I don't trust these three countries either," Khamenei said on his website. "If you want to have a deal, we need practical guarantees otherwise they will do the same as the U.S. If they can't give definitive guarantees, it won't be possible to continue."

But it's not clear whether the EU, China and Russia will be able to ensure Iran receives the promised economic benefits -- including free access to international oil markets and accelerating flows of trade and investment -- that persuaded the Islamic Republic's leaders to sign up to an agreement capping its nuclear program.
Before Trump's announcement Tuesday that he'll pull the U.S. out of the deal, Western businesses had already been reluctant to take the plunge into a country still subject to multiple curbs imposed by Washington. The exit throws billions of dollars of European investments that had been planned into disarray. President Hassan Rouhani said Iran will push to make the deal work but may step up uranium enrichment again if the efforts of the remaining parties don't yield tangible results.
"The international reach of U.S. sanctions makes the U.S. the economic policeman of the planet, and that is not acceptable," French Finance Minister Bruno Le Maire said Wednesday in an interview on France Culture radio. He branded Trump's decision a "major mistake" and said he'll lobby Treasury Secretary Steven Mnuchin this week to grant exemptions for European firms. French President Emmanuel Macron is due to speak to Rouhani later in the day.

Oil rebounded to trade at the highest level since 2014 with the sanctions aimed at cutting exports from OPEC's third-largest producer. Brent for July settlement climbed as much as 3.1 percent to $77.20 a barrel on the London-based ICE Futures Europe exchange and was 2.9 percent higher at 12:46 p.m. in the British capital.
Trump's now promising to introduce a host of new restrictions that will test an economy already under strain. Iran's rial has hit record lows against the dollar in recent months, forcing Rouhani's government to impose currency controls. Protests that spread through several Iranian cities in December and January were linked to stagnation and rising costs of living, as the nuclear deal failed to deliver economic liftoff.
'Wind Down'
In Iran's capital, where many were glued to Trump's speech on TV, 32-year-old masters student Golnaz said she's worried that hard times may be ahead. "What if the Europeans also apply sanctions,?" she said by phone from north Tehran. "If people go back to those times when money was tight, food was even difficult for many to buy, it'll be really bad." She declined to be identified by her family name because of the sensitivity of speaking to foreign media.
"Iran will now turn to the Europeans and say: "This happened. What are you going to do?'," said Amir Handjani, a senior fellow at the Atlantic Council.
"Iran wants more than just political rhetoric from European leaders," he said -- and that won't be easy to deliver. "It's one thing for the EU to say we remain committed and we won't take steps that will undermine the deal. It's another for European companies and banks to trade and invest in Iran."
The EU has policy tools available that it's used in the past to protect companies from U.S. sanctions -- but they're often outweighed, in the eyes of executives, by the risk of losing access to the world's biggest economy.
Pulling the Plug
French oil giant Total SA, for example, says it will pull out of a joint venture in Iran if Trump re-imposes sanctions and it can't win an exemption. Siemens AG Chief Financial Officer Ralf Thomas said he is assessing the impact for business in the country and the company will always comply with export regulations. Volkswagen AG, which began selling vehicles in the Islamic Republic last year, also vowed to stick to the rules.
Chancellor Angela Merkel said Germany will also be seeking talks with the Iranian government to work out what happens next, describing the U.S. decision as "grave." U.K. Prime Minister Theresa May acknowledged Trump's criticisms of the deal -- Tehran's ballistic missile program, the sunset clause on the nuclear restrictions, and its regional meddling -- but insisted the accord should serve as a foundation for broader agreement.
"Those are issues are need to be addressed and we are working with our European and other allies to do just that," May told lawmakers in London Wednesday.
Russia said late Tuesday it was "deeply disappointed" by the U.S. decision to pull out of the deal, and ready to work with other parties to keep it alive. China urged all parties involved to continue efforts to implement the agreement.
Rouhani said in a televised address that it was already clear the U.S. under Trump wasn't committed to an accord also signed by Russia and China. He said his foreign ministry will start talks with all the other participants on how it can still be made to work. But Iran has ruled out renegotiation.
— With assistance by Jonathan Tirone, Ben Holland, and Gregory Viscusi
Before it's here, it's on the Bloomberg Terminal.
LEARN MORE