charted
Bottled Water, Soda Provide the Pop in U.S.
Carbonated soft drinks remain important to beverage industry even as consumption declines
By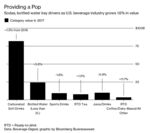 Americans are drinking more bottled water, and that's helping boost the liquid beverage refreshment industry. Single-serve water added about $900 million in value last year, reaching $24.1 billion in sales, while an increase in soda prices helped lift category revenue to $81.6 billion, accounting for more than half of the $135.7 billion in total beverage sales by dollar amount, according to Beverage-Digest. Even so, more consumers are cutting back on sugary carbonated soft drinks, with volumes declining for 13 consecutive years.
Before it's here, it's on the Bloomberg Terminal.
LEARN MORE