politics
U.S. Confirms It Will End Honduras Protected Status in 2020
By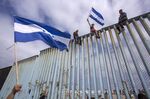 U.S. Homeland Security Secretary Kirstjen Nielsen is delaying the effective date of ending Temporary Protected Status for Honduras by 18 months to January 5, 2020 to "allow for an orderly transition," Dept. of Homeland Security says in emailed statement.
Nielsen determined that disruption of living conditions in Honduras from Hurricane Mitch that served as the basis for TPS designation has decreased "to a degree that it should no longer be regarded as substantial"
Before it's here, it's on the Bloomberg Terminal.
LEARN MORE