Politics
Trump's Tariffs Could Weaken the GOP's Grip on Congress
Farm-state Republicans are getting nervous, as tariffs may sow the seeds of a midterm disaster.
By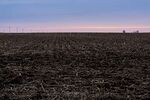 Supporters of Donald Trump don't come much stronger than Republican Representative Steve King of Iowa and his constituents in the sprawling 4th Congressional District. Stretching across the northwest quarter of the state, the rural district lies in the heart of farm country and went for Trump by 27 points. "We're the No. 1 agriculture-producing congres­sional district in all of America," says King, "the flagship for districts across the country."
Farm districts such as King's put Trump in the White House and are the backbone of the GOP majorities in Congress. They're also uniquely positioned to suffer from a trade war with China. In early April, responding to Trump's proposed $50 billion in tariffs on Chinese goods, China announced or implemented retaliatory levies on roughly $50 billion in U.S. exports, including wheat, corn, cotton, sorghum, tobacco, and soybeans—a direct strike at the deep-red, Trump-friendly heartland.

It's also a strike at the Trump voters the GOP is depending on to show up in November. According to data compiled by Bloomberg measuring which U.S. congressional districts rely most on soybeans for economic activity, far more GOP than Democratic districts will suffer, with King's atop the list. But party affiliation alone doesn't capture the extent to which Trump voters stand to be hurt: Of the 30 districts most reliant on soybeans, Republicans represent 25 and Democrats 5; all voted for Trump in 2016. "It's like he's microtargeting policy to screw his own supporters," says a frustrated GOP strategist.
While the president's campaign-trail broadsides against China were a hit with voters in the Rust Belt, they may boomerang on Farm Belt lawmakers such as King. China is the largest importer of soybeans and many other commodities. "There's a tremendous amount of concern on soybeans and a number of other ag products, too," says King, whose district has 18,000 soybean farms. "Our grain prices right now are a little more than half what they were at their peak 10 years ago. In my neighborhood, to take a hit in a trade war on top of the depressed commodities prices, it just sends a chill down your spine."
After China imposed a 179 percent duty on U.S. sorghum on April 17, China-bound ships laden with U.S. sorghum turned around mid-sea. China accounted for some 80 percent of U.S. sorghum exports last year. "There's been very little trade" since mid-April, says Bob Ludington, an executive at Scoular Co., an Omaha grain-­handling company. The collapse of U.S. sorghum exports to China hit another red state, Kansas, the largest U.S. producer. "We knew this was hanging over our heads," says Kurt Winter, a sorghum farmer in Sedgwick County, just outside Wichita. "When we heard the news, it was still just devastating to us. It's really going to put the hammer to our price prospects."
Beyond the human toll, a trade war would be politically ominous for Republicans. Midwest farm states will host many of this fall's tightest races for Senate (Missouri, Indiana, North Dakota) and governor (Ohio, Michigan, Iowa, Minnesota). "The farm community is a pretty powerful voting bloc," says Jennifer Duffy, who tracks Senate and gubernatorial races for the nonpartisan Cook Political Report. "If they're unhappy, they turn out in big numbers and can really change things in a hurry."
That could imperil Republicans' hold on power, especially if Trump voters don't bother going to the polls in November, when Trump won't be on the ticket. "Republican candidates face serious headwinds this year, and this trade war has the potential to make it much, much worse," says Michael Steel, a GOP strategist and former top aide to House Speaker John Boehner. "It's just a terrible, counterproductive idea, both economically and politically."
Much of the economic damage from a trade war would be inflicted on red states and districts where Democrats aren't competitive. Despite Iowans' anxiety about soybean tariffs, political forecasters consider King a shoo-in for reelection. The same is true for Representative Roger Marshall, whose Kansas district is known as "The Big First" for its ample farm acreage and will be hardest hit by the new sorghum tariffs. In 2016, Marshall's constituents voted for Trump over Hillary Clinton by 45 points.
In districts like these, lawmakers hoping to mitigate the economic damage Trump's confrontation with China could inflict on constituents may be forced to do something Republicans have been reluctant to do: confront their own president. On April 12 a group of farm-state Republicans met with Trump to express their concerns, though many emerged doubtful of the president's claim that farmers will "do fantastically well" in trade negotiations. Nebraska Senator Ben Sasse called Trump's approach "nuts," while Kansas Senator Pat Roberts reminded the president of looming midterms. "What you don't want to do is hurt the folks who brought you to the dance," Roberts said afterward.
King knows what that might look like. In 1980, Jimmy Carter halted grain shipments to Russia to protest the Soviet invasion of Afghanistan, causing a price collapse that sparked the farm crisis. "The markets fell off the table immediately, and we went into an economic tailspin," says King, whose construction company almost went bankrupt. "There was nobody to sell to. You couldn't get money. I went to farm sale after farm sale and saw families watching their life's work be sold off for pennies on the dollar—mom and kids standing there crying, loaded up like the Clampetts heading out of town."
His constituents remember the farm crisis, too. Few agree with Trump's claim in a March 2 tweet that "trade wars are good, and easy to win." Over Easter vacation, King traveled across his district meeting with farmers and others alarmed at the economic threat Trump has stirred up. "They're uneasy, they're edgy, and some of us see through the looking glass into a world we don't want to see again," says King. "Nobody out there is saying, 'This is going to work out great for us.' " —With Alan Bjerga and Shruti Singh
BOTTOM LINE -
Chinese tariffs on a host of U.S. agricultural products could spell trouble for farm-state Republican candidates in this year's midterm elections.
Before it's here, it's on the Bloomberg Terminal.
LEARN MORE