Politics
Meet the Saudis Remaking the Kingdom's Image in Washington
After a number of diplomatic defeats, the Saudis are rebranding their influence efforts with fresh faces in the U.S. capital.
By and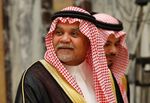 For more than two decades, Prince Bandar bin Sultan was Saudi Arabia's man in Washington, a fighter pilot-turned-ambassador who's a charismatic entertainer, storyteller, and close friend of the Bush family. After resigning in 2005, Bandar held a series of positions in Riyadh before fading from public life. Now in his late 60s, he's rarely seen at events. Rumors swirled in Riyadh that he—along with other ex-power brokers—was now on the outside in Crown Prince Mohammed bin Salman's new Saudi Arabia.
So when the Saudis held a gala in Washington to celebrate Prince Mohammed's U.S. visit, the surprise of the night was that Bandar not only came but was feted. Before a lineup including Senator Lindsey Graham and former Vice President Dick Cheney, he gave a nostalgic speech about his D.C. days and the relationship between the U.S. and Saudi Arabia—now effectively led by 32-year-old Prince Mohammed. "The crown prince embodies youthful energy, which I lack," Bandar quipped to laughter.
At a nearby table was the kingdom's new ambassador, 30-year-old Prince Khalid bin Salman—the younger brother of Prince Mohammed (known as MBS) and, like Prince Bandar, a former fighter pilot. Khalid is part of a new generation of Saudis who have moved to Washington to revamp the kingdom's reputation and rebuild its relationship with the U.S.

Their job is harder than Bandar's ever was. "It used to be that you would have a conversation with the political leadership in Saudi Arabia, and they would say, 'Oh, we spoke to the secretary of state and the national security adviser, and that should take care of it,' " says Hady Amr, who was a senior diplomat in the Obama administration. Those relationships were strained over the years, first by a shift in public opinion after the attacks of Sept. 11, then by policies that reduced the U.S. role in the region.
"After 9/11, the public space went sour on Saudi Arabia," says Ali Shihabi, an ex-banker who came to Washington in January 2017 to set up a pro-Saudi think tank called the Arabia Foundation. After a close though complicated relationship with the Bush administration, the Saudis felt sidelined, and in some cases targeted, by policies under President Obama. They lobbied against the Iran nuclear deal and a bill, passed by Congress in 2016, that let family members of the victims of Sept. 11 sue Saudi Arabia. Foreign Minister Adel al-Jubeir, himself a former envoy to Washington, camped out in town for weeks in an unsuccessful attempt to change the law.

According to filings with the Department of Justice under the Foreign Agents Registration Act, the kingdom spent at least $7.5 million lobbying against the 9/11 law. They brought American veterans to D.C. to tell members of Congress that the law would put U.S. soldiers in harm's way. The tab included $270,000 spent at the Trump International Hotel for lodging and other expenses. None of it worked. The vote in favor of the bill, and the subsequent lawsuits that have moved forward, served as a wake-up call to Saudi leaders. "It was a slap in the face that all the lobbyists and all the personal relationships" were ineffective, says Shihabi.
It didn't help that after Bandar, the kingdom had three ambassadors in 10 years. The Saudis ended up outsourcing much of their work in D.C. to the U.A.E. ambassador, Yousef al-Otaiba, and his boss, Abu Dhabi Crown Prince Sheikh Mohammed bin Zayed, a close Saudi ally. With the April 2017 appointment of Prince Khalid as ambassador, the Saudis started taking charge of their lobbying efforts again.
Khalid is MBS's full brother and is thought to be among his most trusted relatives. Khalid speaks fluent English and flew missions against Islamic State and over Yemen as part of the Saudi-led war there. "His job above all is to reinvigorate the relationship between the kingdom and the U.S. across the board," says a senior Saudi embassy official.
In his most striking act as ambassador, last fall Khalid announced that the kingdom was ending its decades-long ban on women driving. Tellingly, it was made in the afternoon in Washington, which was the middle of the night in Riyadh. "We are not Westernizing or Easternizing—we are modernizing," Khalid said in English. The news coincided with the appointment of the embassy's first spokeswoman, Fatimah Baeshen. Raised in Mississippi, with a Southern accent and a master's from the University of Chicago, Baeshen came to D.C. in 2017 to work at Shihabi's Arabia Foundation, writing pro-Saudi reports and research.

The Saudis have also found friends in the Trump White House. MBS has become close to Jared Kushner, and he's been embraced by Trump, who went to Saudi Arabia for his first foreign trip in May 2017. For much of Trump's first year, the Saudis were emboldened, particularly last June when they embargoed Qatar and accused it of being too close to Iran. The move caused a rift in the White House, as then-Secretary of State Rex Tillerson scrambled to assure Qatar of America's continued support. Trump has since appeared to recalibrate, hosting Qatar's Emir Tamim bin Hamad Al Thani in the Oval Office and praising the country for its anti-terror stance.
The rise of MBS has created image problems of its own. He's the driving force behind the war in Yemen and the arrest of dozens of domestic critics. He also jailed hundreds of Saudi elites in what he called an anticorruption campaign, releasing most after they agreed to financial settlements.
To manage their brand, the Saudis still rely on a contingent of lobbyists in Washington, though they have cut ties with some since MBS began his ascent. The senior embassy official acknowledges that while American lobbyists and consultants still have a role, the new emphasis is to make Saudis the face of any D.C. campaign. "Saudis talking about Saudis is always going to be much more effective than having an American consultant speaking on our behalf."
The Saudis have also, in a way, returned to Bandar. His daughter, Princess Reema, has emerged as a key player in the reputational revamp. She traveled to the U.S. in March. In January she went to Davos, where a clip of her defending Saudi Arabia went viral. "There is a determination to not allow us to create a new narrative," she said. "And my question is, why?"
BOTTOM LINE -
Saudi Arabia is rethinking its lobbying strategy in Washington, starting with its new ambassador, Prince Khalid, an ex-fighter pilot who's flown bombing missions against Islamic State.
Before it's here, it's on the Bloomberg Terminal.
LEARN MORE