Technology
The Mad Dash to Buy Vintage Clothes on Instagram
For a new breed of shoppers, every day is a roller coaster of triumph and regret.
By and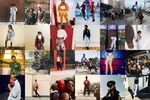 The moment Dee Ibrahim checked the alert on her mobile phone, she knew she had to buy that pink blazer.
Ibrahim coveted the $50 jacket just listed by a vintage clothing seller on Instagram. But there were bills to pay and she couldn't really afford it, so she messaged a friend instead, asking her to claim the blazer. No luck.
Fine, Ibrahim recalled thinking, I'll buy it anyway. But when she refreshed the page, it was gone. "Sold," it read. Her heart sank.
Such is the roller coaster of regret and triumph for a new breed of shoppers that has made Instagram's vintage shops part of their daily routine. Hundreds of accounts post carefully curated looks several times a day, and they often sell within minutes—or seconds. Since the clothes are plucked from thrift shops or a grandmother's closet, they're effectively one-of-a-kind. Miss an alert, and it's gone forever.
Ibrahim, a 22-year-old fashion model, does sometimes win this mad dash, though. Like when she saw a $32 nightgown she just had to have. While scrolling through her phone at work one day, she quickly grabbed it. "I commented my ZIP code and she responded in like a minute," said Ibrahim. "And that was it."
These social media shops—run as hobbies by some and serious businesses by others—represent a burgeoning corner of social commerce. Though networks such as Facebook, Twitter, Pinterest, and Instagram can heavily influence purchases, transactions happen mostly on retail websites, not the social platforms themselves. A 2017 report from visual search company ViSenze said 54 percent of online buyers never make purchases that begin on social media. But the landscape is changing, said Andrew Lipsman, an analyst at research firm EMarketer. He predicted that similar tactics will soon be adopted by major retailers.

Instagram, with its 800 million monthly active users, has been slowly rolling out products to make the process of selling vintage clothes—and anything else, for that matter—easier for big retail partners and small businesses that use platforms such as Shopify and BigCommerce. In August 2016, it added the ability to see products in Instagram stories and click through to a brand's retail site. Testing of "Instagram Shopping" with Macy's and eyewear brand Warby Parker came three months later, allowing retailers to tag products in an image and direct users to a "Shop Now" link. Last year, the social network added more partners and even redesigned its shopping button.
Vintage shops, however, use old-school methods. Sellers post their outfits with a caption listing size, price, color, and style, as well as how to claim it, typically via direct message or public comment. They often ask for a ZIP code, too, in order to give customers an accurate estimate of the cost with shipping. Transactions are typically conducted via PayPal or an instant cash-sending app. Since there's usually only one of each item, it's first-come, first-serve—a reality that sometimes triggers a fashionista feeding frenzy. 
"You don't think about it as much when it's a race to buy it first," said Rose Soiffer-Kosins, a 21-year-old student who runs her own Instagram shop, Ecru Vintage, out of Claremont, Calif. "If you miss out on a vintage piece, you're probably not going to find it again. It's a new kind of consumerism."
A vintage shop on Instagram has almost no startup costs. Some generate as much as $5,000 in sales or more per week, with customers from around the world mostly aged 18 to 35. Sellers say those with significant followings can accrue up to six-digit annual sales. 
But being a purveyor of apparel on Instagram means also being a shopper. Many of these entrepreneurs spend significant time rifling through the racks of Goodwill, Salvation Army, local thrift shops, and estate sales. After washing, mending, and ironing, they conduct photo or video shoots, banking anywhere from one week to one month's worth of posts.
In the continuum of Instagram shops, Soiffer-Kosins' effort is closer to hobby. She started her account last spring after realizing that her love for thrift shopping could translate into a few additional dollars. In high school, she'd sell her old clothes through the online consignment store Poshmark, planting the seed for her future endeavor. These days, Ecru Vintage features classmates who model her stock, as many as 30 looks per month, with one posted every day. If items don't sell quickly on Instagram, she moves them to her online store, which lives on peer-to-peer mobile marketplace Depop. All told, she nets $100 or more a week to supplement her day job, she said.
Ivia Retrò, an online shop started in late 2016 by 22-year-old Brooklyn student Olivia Capierseho, gets about two-thirds of its business from the account's 7,000 or so Instagram followers, rather than from its own website, she said. Her Instagram page feels a lot like a store because it relies heavily on visuals and makes discovery easy by way of hashtags. Almost all of the followers are women from 18 to 24, Capierseho said, and she usually rakes in around $3,000 a month. "I've tried making a Facebook and Pinterest page, but Instagram is the best" for shopping vintage fashion, she said. "It's definitely a lot more popular than it was a year ago."
Na Nin Vintage, meanwhile, is a full-fledged Instagram retail operation. In 2009, Kate Jennings, 33, began reselling clothes on Etsy as a side gig. She decided to switch careers and open her own physical store in 2014, a little outpost on a quiet street in Richmond, Va. Two years ago, she finally got on Instagram, and things really took off. Her store's account has 136,000 followers now, and sales happen in a flash—usually within the first five minutes, according to Jennings. A staff of five handle her vintage clothing, which they find in consignment stores, yard sales, and estate auctions. She plans to keep selling on Instagram as long as she can. "It's definitely profitable," she said.
Though many vintage clothes sellers have found success staying devoted to Instagram, tweaks to the Facebook Inc.-owned platform's photo stream continue to mess with this nascent industry. In 2016, it shifted from a chronological feed to one based more on the likelihood that a person would be interested in the content, the post's timeliness, and user relationships. The latest changes, announced in March, make it more likely that newer posts will appear higher in feeds, however. But since not everyone sees every post on their feed, it makes for an uneven playing field.
As for their customers, vintage buyers will probably stay in the race for clothes on Instagram, even if rivals might get a head start. Used apparel is a growing alternative to fast fashion, the mass-market retailers that take runway styles and convert them into cheap, disposable clothes sold around the planet. Reworn clothing is like recycling, with each new wearer preventing another garment from being added to the world's trash heaps. For them, it's worth battling each other for the coolest clothes on Instagram.
Cynthia Blanco, a 23-year-old New Yorker who works at an ad agency, supplements her wardrobe with vintage pieces she finds in stores and on Instagram, shunning retailers such as Forever 21 and Fashion Nova. She checks her favorite online shops every day, jumping in with a comment or direct message when a sleek dress or posh skirt stands out. Scrolling through her Instagram feed recently, she spotted a new shop and took a few moments to peruse a few of the styles. 
"Within a matter of minutes, they were gone," she said. "By the time I saw the image, the caption was already updated to 'Sold.'"
Before it's here, it's on the Bloomberg Terminal.
LEARN MORE