politics
Kim Urges Frequent Talks After Declaring Korean 'Era of Peace'
By , , and
Leaders of the two Koreas hold first summit in 11 Years

Denuclearization to top the agenda in inter-Korean talks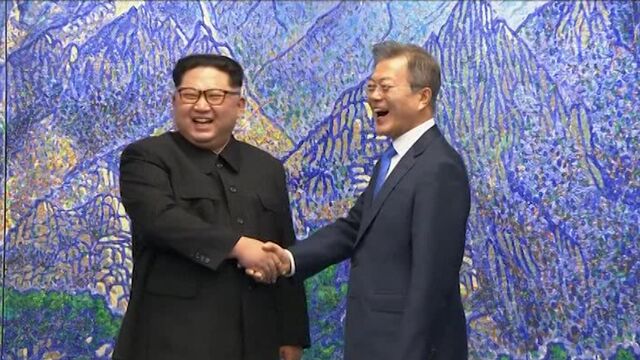 Kim Jong Un called for more meetings with his South Korean counterpart after becoming the first North Korean leader to cross the border to hold talks over his nuclear weapons program.
Kim made the offer to South Korean President Moon Jae-in as the pair met Friday on their militarized boundary for the first summit between the rival governments in 11 years. Both men basked in symbolism of the moment. Kim declared "a new history" and an "era of peace," while Moon said the "weight on our shoulders is heavy."

The pair were expected to announce agreements later Friday on plans for formally resolving their 68-year conflict and defusing the dispute over Kim's growing nuclear arsenal -- although there's broad skepticism that they could avoid the collapse of similar deals in the past. Kim joked that Moon would no longer be woken up by early morning weapons tests.
Earlier, Moon greeted a smiling Kim -- dressed in a black Mao suit -- at Panmunjom village before the North Korean leader stepped across a concrete slab marking the border. In what appeared to be a spontaneous gesture, Moon accepted Kim's invitation to step together onto the northern side of the dividing line before returning to the south.

The meeting -- the third between leaders of the nations since the Korean War and the first since 2007 -- will go a long way in determining whether Kim can eventually strike a deal with U.S. President Donald Trump. The event marked Kim's first live, unfiltered appearance on world television: South Koreans gathered rapt around screens to watch Moon lead him past a military honor guard while a band played "Arirang," an unofficial Korean anthem.
Here's the Schedule for Korean Leaders' Historic Summit Friday
"I felt a flood of emotion as I walked the 200 meters here," Kim told Moon as talks began. "I came here with a mindset that we will fire a flare at the starting point of a new history for peace and prosperity. Let's get everything off our minds out here and get good results."
The South Korean won strengthened 0.4 percent to close at 1,076.65 against the dollar in Seoul -- Asia's second-best-performing currency Friday.
In Pictures: When Kim Met Moon
Moon's spokesman said Kim accepted an invitation to make an unprecedented visit to South Korea's presidential palace, the site of a failed attack by North Korean commandos 50 years ago. Moon commended Kim for his "brave decision" in agreeing to Friday's meeting.
"Eyes and ears from all over the world are focused on Panmunjom," Moon said. "I feel the weight on our shoulders is heavy."
The stakes couldn't be higher. Kim's regime is on the cusp of developing a missile capable of striking any U.S. city with one of his estimated 60 nuclear bombs. Trump has tightened economic sanctions against Kim's regime and warned of military action if he continues to threaten the U.S.

"We are hopeful that talks will achieve progress toward a future of peace and prosperity for the entire Korean Peninsula," White House Press Secretary Sarah Huckabee Sanders said in a statement. That's a big change from last year, when Trump derided Kim as "Little Rocket Man" and threatened to "totally destroy" the country.
Reports ahead of the summit said the leaders may sign a peace declaration to replace the 1953 armistice that has left the two countries still technically at war, as well as a phased withdrawal of troops and weapons from both sides of the demilitarized zone. They could also signal a mechanism for future talks on nuclear inspections and sanctions relief, two areas that have prompted previous negotiations to unravel.
Last week, Kim promised to extend his freeze on missile and atomic tests, as well as dismantle a nuclear test site believed to have been badly damaged by recent explosions. Still, few expect Kim to completely give up his nuclear weapons, which are so central to the regime's identity that North Korea's status as a "nuclear state" is enshrined in its constitution.

"This summit is solely focused on denuclearization and policies to achieve lasting peace," Im Jong-seok, Moon's chief of staff and head of summit preparations, told reporters Thursday. "It's difficult to predict" what any agreement would look like, he said.
Kim and Moon will have plenty of photo opportunities throughout the day: Walking together, signing a guestbook and planting a tree. The leaders plan to sign agreements before a banquet tonight.
"It was most noteworthy that Kim pulled Moon across the border into the north," said Duyeon Kim, a visiting senior research fellow at the Korean Peninsula Future Forum in Seoul. "This shows that he's determined to show his influence on the peninsula and will be on the offensive even though he is in the south."

Nuclear Weapons
Any progress on dismantling the Kim's weapons program would likely be slow and fraught, and involve visits by international inspectors. Prior efforts involving Kim's late father when he was leader collapsed in acrimony, with North Korea blaming the U.S. for failure to adhere to the agreements.
"It's off to a good start, but there must be a concrete commitment by Kim on denuclearization," said Youngshik Bong, a researcher at Yonsei University's Institute for North Korean Studies in Seoul. "Otherwise it will end up as a fancy show."
— With assistance by Isabel Reynolds, Chelsea Mes, Jihye Lee, Heesu Lee, and Hooyeon Kim
Before it's here, it's on the Bloomberg Terminal.
LEARN MORE