Wellness
The Facial That Came From Outer Space
LED masks are NASA-tested skin boosters that don't require needles.
By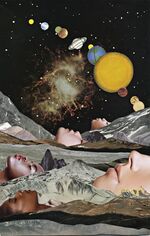 You may have seen them on Instagram: featureless, eerie white masks glowing brightly in selfies by Jessica Alba, Kate Hudson, Chrissy Teigen, or even soccer player Paul Pogba. In photographs, these LED beauty masks can make even these attractive specimens of humanity look like Hannibal Lecter from The Silence of the Lambs.
The strange device dispenses the latest cutting-edge anti-aging regimen: LLLT, or low-level light therapy. The masks are studded with light-emitting diodes that pulse or flash in preprogrammed patterns of red, blue, and infrared light. Devotees swear that they are an electrical fountain of youth.
"While it's hard to imagine that these devices work, there is real science backing it up," says independent beauty chemist David Pollock. He explains that NASA first harnessed the power of LEDs to grow plants on the space shuttle in zero gravity. The light encourages cells to produce more of the chemical adenosine triphosphate, or ATP, which fuels healthy growth and functioning; fibroblast cells, for example, will become better at producing collagen with more ATP. When the scientists tried red light on astronauts, their wounds healed faster, too—again, thanks to higher levels of ATP. Further research showed the various positive effects of infrared light, as well as visible red and blue light, on biomatter, and thus the science of LLLT was born.
Advocates say the masks can help minimize wrinkles (red light) or treat acne (blue light), with different color combinations depending on one's goals. For high-end spas rapidly embracing the technology, the masks have an even better feature: No invasive procedures or injections are necessary.
But you don't have to visit a salon to try the therapy. For $2,300 you can own the same mask celebrity estheticians use: Opera, from Korean skin-care firm Déesse, offers eight treatment modes and five wavelengths in different colors that aim to address skin troubles including rosacea and fine lines. California-based wellness provider BioPhotas Inc. produces a range of devices under the Celluma brand. Rather than a hockeylike mask, it sells a flexible panel, equipped with Panasonic LEDs, that can be used anywhere on the body—handy when you need to treat wrinkly décolletage or an acne-prone back. Celluma Pro, one of its pricier models, costs $1,595.
If it's laughter lines that have you frowning, just try the SpectraLite Eyecare Pro ($159), a visor from Dr. Dennis Gross. Neutrogena's acne-busting light-therapy mask is only $34.99, but it requires monthly refills of its portable battery pack for ongoing treatment, each costing $14.99.
Most manufacturers advise using an LLLT mask on clean skin for 30 minutes daily or every few days; it will take about a month of treatment to see full results. Wearing these masks feels like staring at the sun, with your eyes closed, on the beach; it's slightly warm, too, but not unpleasantly so. (There's no risk to sight, since the light isn't a laser; nonetheless, it's best to wear a sunbed-style eyeguard.) Thirty minutes under a Celluma Pro doesn't bestow an instant glow to the skin, but a day later, it may seem a little firmer.
Not all beauty insiders are convinced. Christine Chin, a Manhattan-based expert in microdermabrasion, laser pigmentation erasure, and other treatments, prefers the instant impact of an intense pulsed light (IPL) treatment. The biggest problem with masks, she argues, is the commitment. "For half an hour every day? Be honest—would you do it?" she asks. "Lemme tell you, it's hard enough to get people to wash their face. It's like exercising at home. If you don't have a trainer, it's always tomorrow."
(Corrects the illustration credit at the top of the story.)
Before it's here, it's on the Bloomberg Terminal.
LEARN MORE