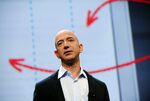 The annual shareholder letter from Amazon.com Inc. CEO Jeff Bezos is closely read by technologists eager for pearls of wisdom. This year's edition drew headlines for the surprising disclosure of the number of paying customers to Amazon's Prime shopping club. Amazon refused to disclose this Prime number for years, even after prodding by U.S. securities regulators, and it's not clear why Bezos picked this moment to spill the beans.
That wasn't the only disclosure in the Bezos letter, but all the rest were far less illuminating.
Bezos followed Amazon's familiar pattern of giving a flood of business metrics that are meaningless or provided without context, making it impossible to know whether they're good or bad for Amazon. The non-bombshells that Bezos dropped included the number of people who participated in a webcast of Amazon's cloud-computing conference, impossible-to-confirm figures on Amazon's job creation prowess and multiple context-free percentage growth figures. 
Amazon is far from alone in preferring to reveal as little as possible about its business. Amazon's stinginess with meaningful financial disclosure is an innocuous quirk while the company's business is doing well. But corporate secrecy can backfire when a business runs into trouble.
And Amazon's method of keeping its financial secrets is particularly insidious because it is thriftiness with the patina of transparency.  In Bezos's letter, for example, a nearly 2,500-word section devoted to Amazon's 2017 milestones included more than 70 numbers or non-numerical bragging points about the company's business. By my subjective count, the only figure that was meaningful and not previously disclosed was the Prime member number. The other 72 were either fluff, presented without important context or impossible to corroborate. 
Bezos wrote that more than 300,000 U.S.-based merchants started selling goods on Amazon last year. Is that a lot or a little given the size of Amazon's e-commerce business, and how many of those merchants sold meaningful amounts of merchandise? Bezos doesn't say. Amazon said without elaboration that the Netflix-like streaming video service that's a perk of Prime membership "continues to drive Prime member adoption and retention." The company has been saying this for years while never providing evidence that there's a causal relationship between the streaming video service and Amazon's sales of more shoes -- a claim Bezos made a couple of years ago.
Amazon also said its freshly acquired Whole Foods grocery chain set an "all-time record" for Thanksgiving turkeys sold in 2017. Yay? And without explaining how he arrived at this job-creation figure, Bezos said that Amazon's investments in areas such as package warehouses have created 260,000 jobs in construction and other fields. Among percentage growth figures he offered was that membership in Amazon's paid streaming music service more than doubled over the past six months. It might have been from two people to five, or from 100 million to 201 million members. Bezos didn't say. 
Anyone who is familiar with Amazon's quarterly earnings reports will recognize this pattern. Amazon runs through thousands of words of "highlights," including seemingly every product or feature the company announced in recent months, the number of entertainment industry awards won by Amazon movies, and new countries in which Amazon offers its Dash Buttons, the internet-connected devices that let people re-order dog biscuits and underwear (yes, really) with ease. This quarterly exercise is exhausting and rather pointless. 
It's unfashionable to laud government bureaucrats, but I have to applaud the efforts of the Securities and Exchange Commission in its dealings with Amazon. Repeatedly in recent years, the SEC division that reviews public company disclosures has pushed Amazon to disclose more meaningful numbers about its business.
My colleague Justin Fox wrote recently about a back-and-forth between Amazon and the regulator, which demanded -- unsuccessfully -- that Amazon disclose its research-and-development spending as other companies do. After prodding by the SEC, Amazon last year offered a breakdown of its revenue from Prime and other subscription services for the first time. That disclosure was surely helpful for investors.
Amazon only seems to give meaningful glimpses at its financial metrics when it thinks doing so is helpful to the company or when regulators force its hand. Otherwise, Amazon prefers obfuscation by a bazooka of meaningless statistics.
The annoying thing about Amazon's strategy is that it works. News outlets repeat Amazon's numerical blabbing. And the worst part is Amazon and Bezos get to look like they're saying a lot about the company's track record when really they're revealing almost nothing. 
Before it's here, it's on the Bloomberg Terminal.
LEARN MORE