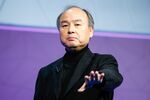 SoftBank Group Corp. founder Masayoshi Son is on a mission, and he isn't going to let some irritating bond covenants stand in his way. His plan to get around them risks treating certain creditors more favorably than others, and that is a dangerous strategy for a company so reliant on leverage.
Son wants to IPO the company's core Japanese telecom business, but two bonds issued by the parent company in 2013 have terms requiring it to have an investment grade senior unsecured credit rating before it can sell certain assets -- including the telecom unit. Unfortunately for the billionaire's plans, the grade is currently junk, at Ba1 from Moody's Investors Service with a stable outlook and BB+ with a negative outlook from S&P Global Ratings.
SoftBank's plan is to issue new bonds to buy back these pesky old ones. On Monday the company started marketing five- and seven-year securities in both euros and dollars to replace about $2.5 billion and 625 million ($773 million) euros of this legacy debt.
These new notes include a substantial premium above where existing SoftBank debt trades. The indicated price talk for the new seven-year euro deal is 4.625 percent -- a monster 80 basis point premium from where the 2025 bond it sold in September closed on Friday. A similar pickup on the dollar tranches is on offer.
Though all these will likely "walked in" depending on demand -- which ought to be huge at such generous terms -- the yield will still be substantial. New investors, if they can secure allocations, will be ecstatic.
The problem is that offering sweet terms for new replacement debt will surely undercut the value of existing securities. Holders of the 2013 debt being replaced could make up some these losses once SoftBank publishes the terms of the exchange offer -- one would imagine that the company would offer them some sort of premium. But it's not clear that all of their losses will be wiped away. 
The remaining creditors are stuck. They're being treated as third-class. 
True, everyone's meant to read the prospectus. From that perspective, bondholders can't claim they weren't warned. However, the brutal reaction shows that Son's move has caught them off guard.
They've been here before. In March, SoftBank offered preferential terms to modify terms on bonds issued in 2015. Holders of those securities won something of a lottery, but some other investors really lost out, as my Gadfly colleague Shuli Ren noted. This week's proposed refinancing is just a different route to the same end -- removing a commitment to bondholders.
SoftBank seems prepared to pay a high price for that flexibility, and willing for all its other bondholders to bear that cost. Investors have long memories. Son's strategy may permanently raise the cost of borrowing for a company with $130 billion of liabilities and big ambitions.
Before it's here, it's on the Bloomberg Terminal.
LEARN MORE