Economics
North Korea's Other 'Weapon' Is Poised to Explode
The nation's isolation won't contain multidrug-resistant tuberculosis.
Bloomberg News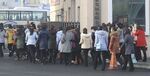 People in China like to joke that North Korea has two lethal weapons: nuclear missiles and tuberculosis.
While the rogue state's nuclear ambitions have long inspired angst—and led to economic sanctions—the threat of TB, the planet's biggest infectious killer, has garnered less attention. With more than 100,000 cases in 2016, North Korea is on the World Health Organization's list of nations with the greatest incidence of the deadly lung disease, and doctors warn that an explosion in multidrug-resistant strains could be coming.
In February, the Global Fund to Fight AIDS, Tuberculosis and Malaria, the biggest financial contributor to TB control in the Democratic People's Republic of Korea since 2010, announced that it will close its programs there in June, citing challenges working in the country. The closure of programs is likely to lead to "massive stock outs of quality-assured TB drugs nationwide," wrote Harvard Medical School doctors in an open letter to the Global Fund, published on March 14 in the British medical journal the Lancet. Such privation in the past has "led to the rapid creation of drug-resistant TB strains, as doctors ration pills and patients take incomplete regimens," they wrote.
Infections that can't be cured with standard drugs are already rife in the country. No nationally representative survey has been conducted to measure the incidence among North Korea's 25 million people, but according to WHO estimates, 5,700 of the country's 130,000 TB infections in 2016 were caused by bacteria resistant to the antibiotic rifampicin or at least two other key TB medications.
That may be a gross underestimate, according to a study published last year in the Journal of Korean Medical Science that analyzed hundreds of patient sputum samples. More than three-quarters of those that tested positive for TB contained multidrug-resistant strains, and two samples contained extremely drug-resistant strains—a form almost impossible to treat in resource-poor countries such as North Korea. Treatment for patients with multidrug-resistant TB, or MDR-TB, commonly lasts two years or longer and typically involves six months of daily injections and a regimen of about 14,000 pills, including some that are toxic.
Treatment regimens that are too short or rely on inferior or inappropriate medicines are the fastest route to drug resistance, says Jennifer Furin, a Harvard-trained doctor and researcher, who's cared for TB patients for 23 years. Cutting funding to programs in North Korea, she says, will undermine disease-control efforts beyond North Korea.
"This will be a disaster that the global health community will pay for later," Furin says. "This is a politically created problem that will turn into a health catastrophe, not just for the people living in the DPRK, but for everybody in the region."
Chinese authorities are on alert for cases among migrant workers from North Korea. Still, many people who've been exposed to TB develop a latent infection with no symptoms, making it difficult to stop at borders.
Dandong, a city in China's northeastern Liaoning province and separated from North Korea by a river, is a main entry point for migrant workers. Quarantine officials identified 33 TB cases among 9,500 North Koreans screened from 2012 to 2014, according to a government report published in 2014 that recommended heightened surveillance in the Dandong area. Local authorities pledged in December to beef up border screening and epidemic management.
Just as HIV has helped spread TB in sub-Saharan Africa, chronic malnutrition is fueling the epidemic in North Korea, according to Kwonjune Seung, who was among the authors of the open letter to the Global Fund published in the Lancet. Seung visits a dozen TB centers in North Korea twice a year as medical director of the Eugene Bell Foundation, a Christian charity focusing on treating North Korean patients. A spillover of MDR-TB from North Korea "would take decades to clean up and could detrimentally affect the public health of bordering countries like China and South Korea," Seung and his colleagues wrote in their letter.
More than 38 countries contribute to the Global Fund, including South Korea and the U.S.; in late March, Congress approved $1.35 billion in funding for the 2018 financial year. The Global Fund defended its decision to suspend its programs in North Korea, saying in an email that it was fully aware of the risks that might arise from disorderly closure of its grants and that it's working with Unicef to accommodate mitigating actions. The decision to withdraw from the country wasn't taken in response to pressure but rather influenced by concerns about the "unique operating environment" in North Korea, it said. The closed environment prevents donors from properly assuring effective use of grants and resources and managing risks. As of last August, the Global Fund's internal performance reviewers gave the North Korea program a B1, or "adequate," rating.
In an open letter to the Geneva-based organization published on March 13 by the Korean Central News Agency, North Korea's official news agency, Kim Hyong Hun, the country's vice minister of public health, accused the Global Fund of bowing to the "pressure of some hostile forces." President Trump has been trying to enlist other nations in a campaign of sanctions against North Korea.
"The decision to suspend the Global Fund projects in North Korea, with almost no transparency or publicity, runs counter to the ethical aspiration of the global health community, which is to prevent death and suffering due to disease, irrespective of the government under which people live," Seung and his colleagues wrote in the Lancet.
Furin sees it as another dimension of the tensions between Trump and North Korean leader Kim Jong Un, whom the U.S. president nicknamed "Little Rocket Man" after the nation tested its missile capabilities in September. The two nations are slated to meet in an historic summit as early as May. "You can't help but think global powers are very concerned about North Korea's erratic behavior, and this is a way to punish the country," she says. "But this is a weapon of destruction in and of itself. TB is an airborne disease. It doesn't stay within borders."
— With assistance by Hui Li, Dandan Li, and Peter Martin
BOTTOM LINE -
The withdrawal of crucial funds for North Korea is creating conditions for an explosion in drug-resistant strains of the planet's most deadly infectious disease.
Before it's here, it's on the Bloomberg Terminal.
LEARN MORE