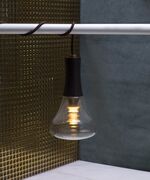 The Characteristics
Eight-year-old London-based lighting company Plumen is giving Edison-bulb purists another reason to finally switch to light-emitting diodes. Its flagship product,the 003, emits as much light as a 60-watt bulb but with the soft ambience of a candle. A sculptural crown of gold-anodized aluminum sits inside a pear-shaped glass that hangs from a simple cloth-wired pendant, also included. Most of the light is projected downward, spotlight-style, but a small portion is reflected onto the cone-shaped crown and then outward. The 2-inch-tall crown's surface is a combination of lenses and reflectors that bounce the light back and forth along the gilt finish, serving as a filter that warms to an incandescent glow.
The Competition
You can, of course, read by the light of a $2 EcoSmart bulb from Home Depot just as well as you can with the $200 Plumen 003. But you won't want to show an EcoSmart off. The $9 Philips 4.5A19b replicates the exposed filament of Edison-style bulbs with LEDs for a warm effect. The Swell series of pendants, starting at $249 and sold through Design Within Reach, preceded the 003 and uses a similar, but more traditional, technique by housing LEDs in shades lined with a reflective brass interior to mimic an analog light.
The Case
The transition from incandescent illumination to energy-efficient LEDs has left many cold because of their harsh, fluorescent-style light, which picks up every crease and wrinkle on your face. But the Plumen 003 retains a soft luster even when it's off. And when on, the bulb produces a textured radiance that gives everything within reach a bit of a Midas touch. $200
Before it's here, it's on the Bloomberg Terminal.
LEARN MORE