business
Harvard's Admissions Secrets Won't Become Public Just Yet
By
Group suing school says admissions files show discrimination

University says admissions process shouldn't be made public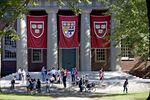 Many of Harvard University's secrets about its admissions practices will remain confidential -- for now.
Harvard is defending a lawsuit over how it chooses its students by a group representing more than a dozen Asian-American applicants who were rejected. The group sued in 2014, claiming the university uses an illegal quota system, and is seeking to publicly disclose in a legal filing information about the admissions process. Harvard wants to keep the records confidential until after a judge rules on whether to dismiss the case.
At a hearing Tuesday in Boston, U.S. District Judge Allison Burroughs agreed with the school, saying most of the records will remain confidential until she rules. If the case goes forward, much of the information will be made public at an October trial.
"These things are filed under seal in this courthouse all the time," she said, urging the two sides to agree on what can be disclosed and what should remain private. "This in many ways is a tempest in a teapot."
One of the nation's most selective universities, Harvard is alleged to have violated the 1964 Civil Rights Act by discriminating against Asian-American applicants, engaging in illegal "racial balancing" and failing to consider race-neutral alternatives. As part of the pretrial exchange of documents, Harvard turned over six years of admissions data on hundreds of thousands of applicants.
Trade Secrets
The group, Students for Fair Admissions, wants to include the data in a June 15 legal filing that will ask the judge to decide the case in its favor, saying court proceedings should be public. Harvard says the disclosure would violate student privacy rights and amount to publishing confidential trade secrets on the inner workings of its admissions process.
"You don't need to put the recipe for Coke in the motion, but you can allude to the fact that there is a recipe for Coke," Burroughs told William Consovoy, a lawyer for the plaintiffs.
Consovoy said Harvard has taken an "extreme position" by filing almost all of its legal papers under seal and for review only by lawyers. That means Edward Blum, a longtime crusader against affirmative action who leads Students for Fair Admissions, can't see them, he said. About 90,000 pages of documents have been exchanged by both sides.
"We're frustrated," Consovoy said.
Harvard's lawyer, William Lee, said after court that the university was following regular protocol in seeking the keep documents confidential until the trial.
'Substantial Interest'
"We're very happy that there's going to be a prompt trial," he said.
The U.S. Justice Department said last week it has a "substantial interest" in the case and urged the judge to make the data public. Harvard noted in response that it has already provided the information to the government for its investigation into the school's admissions practices -- a probe, it added, that wasn't opened until Jeff Sessions became attorney general.
Harvard announced last month that it admitted 4.59 percent of the applicants to its class of 2022. Women represented 50.1 percent of those accepted; African-Americans 15.5 percent; Latinos 12.2 percent; and Native Americans 2 percent, according to the Harvard Crimson. Asian-Americans made up a record 22.7 percent of the class.
The case is Students for Fair Admissions v. Harvard College, 14-cv-14176, U.S. District Court, District of Massachusetts (Boston).
Before it's here, it's on the Bloomberg Terminal.
LEARN MORE