Fed's Kaplan Says Trade Issues With China Won't Resolve Soon
By
He says it's too early to judge impact of tensions on economy

Kaplan reiterates his base case is two more hikes this year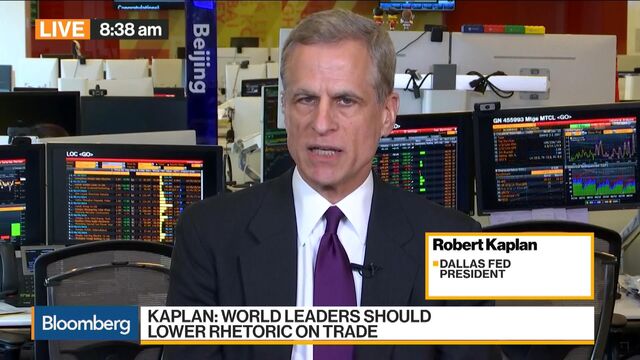 Federal Reserve Bank of Dallas President Robert Kaplan said trade issues between the U.S. and China won't get resolved soon and warned of potential damage if the dispute is prolonged.
"I really do think it is too early to judge how this is going to affect the economy," Kaplan said on Bloomberg Television from Beijing. "But I do think the rhetoric, if it goes on for long enough at this level, is having somewhat a chilling effect."
He added that there had been a lot more threats on tariffs than action.
"I'm still hopeful when we look back a year or two from now you'll see very little actually done in the way of tariffs that were implemented," Kaplan said. "That would be my base case, and I think we are in the early innings of this."
Kaplan reiterated his view that his expectation is that the Fed raises interest rates two more times in 2018. He is not a voting member of the policy-setting Federal Open Market Committee this year.
Fed officials have penciled in two or three more interest-rate increases this year after raising rates in March, while keeping a wary eye on fallout from the simmering trade dispute.
Solid Year
Kaplan said he expects 2018 to be a relatively solid year for economic growth in the U.S.
Fed Chairman Jerome Powell said last week it was premature to judge what the economic impact would be from the trade spat, which has roiled financial markets since President Donald Trump announced tariffs on Chinese goods that Beijing quickly matched.
Aside from trade disputes, the outlook for the U.S. economy has been promising. Unemployment is at the lowest levels since 2000 and Fed officials expect inflation to gradually rise toward their 2 percent target amid solid growth, which is enjoying a boost from tax cuts and increased government spending.
The flattening yield curve and a muted rise in 10-year treasury yields suggest that the outlook for GDP growth is sluggish and that warrants attention as the history of inverted curves is not positive, Kaplan said.
"I, for one, am going to be watching the yield curve very carefully," Kaplan said. "I'm not going to say blindly we should be raising rates if the curve keeps flattening."
Kaplan said later Tuesday that harsh rhetoric on trade may be undermining relations with Mexico, and may have already affected politics there before voters go to the polls in July. The countries have engaged in sometimes contentious talks to renegotiate the Nafta trade agreement, which Trump has called a horrible deal for the U.S. that hurt manufacturing jobs.
"I'm hopeful that we'll be able to successfully finalize those agreements, but the jury's still out," Kaplan said in response to an audience question during an appearance at Tsinghua University in Beijing. "I'm concerned about the domestic political impact of that in Mexico, and how it affects that election that might actually make it harder for the U.S. to successfully trade with Mexico in the years ahead."
— With assistance by Alister Bull, and Jeff Kearns
Before it's here, it's on the Bloomberg Terminal.
LEARN MORE