Stocks Lower as Fed Takes Slightly Hawkish Tone: Markets Wrap
By and
West Texas Intermeditate crude surges to highest since 2014

Treasuries rise, Fed considers faster tightening schedule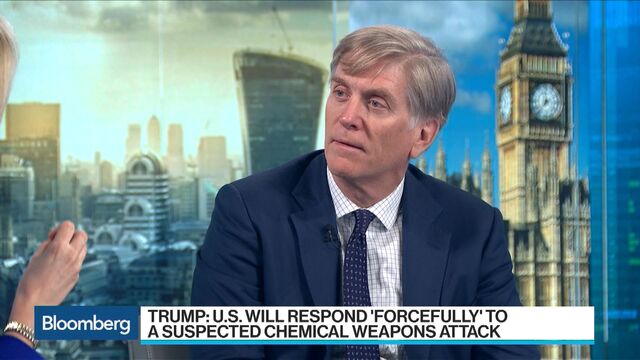 U.S. stocks turned mostly lower and Treasuries rose after minutes from the most recent Federal Reserve meeting showed that officials are leaning toward a slightly faster pace of tightening. Oil rose to the highest level since 2014 amid escalating tensions in the Middle East and political dissonance in Washington.
The S&P 500 Index retreated from earlier gains as investors digested the minutes from the Fed's most recent meeting and grappled with President Donald Trump's provocative comments about Russia and his warning that America's preparing to attack Syria. The small-cap Russell 2000 Index rose, as those companies tend to have less international exposure than larger businesses. Gold futures climbed for a fourth straight day.

"It's shock and awe -- tweets will continue, headlines will continue," Yana Barton, equity portfolio manager at Eaton Vance, said in an interview at Bloomberg's New York headquarters. "Yesterday we were up, today we're down. Guess what? Volatility is the new norm."
The S&P 500 gained a combined 2 percent on Monday and Tuesday as trade tensions between the U.S. and China appeared to ease. The flight to higher-quality assets on Wednesday sent the 10-year Treasury yield down toward 2.78 percent. Aluminum headed for its biggest winning streak since 1988.
"Another sharp two-day rally in the stock market...followed by another tweet from the President...followed by another reversal of the rally," Matt Maley, an equity strategist at Miller Tabak, wrote in an email to clients . "It's becoming a broken record. The White House can say that the blame really goes to China and Russia...and maybe they're correct...but there is no doubt that the President's comments/tweets have been THE catalyst to stop the sharp short-term bounces we have seen in recent weeks."

Geopolitics and the Fed minutes overshadowed the latest reading on U.S. consumer prices. The key inflation measure accelerated to the highest in a year as a drag from mobile-phone costs faded, bearing out the central bank's forecast for a pickup in prices.
"We have to keep in mind that the Fed doesn't target this gauge of inflation, lessening its importance for what interest rates might do," James McCann, senior global economist at Standard Life Investments in Boston, wrote in an email. "Inflation does seem to be building slowly and it looks like the Phillips Curve isn't dead after all, but we need to be very careful seeing today as a signal of strong domestic inflation."
Earlier in Asia stocks were mixed, with indexes in China and Hong Kong posting the biggest gains as People's Bank of China Governor Yi Gang offered more details on pledges to open the world's second-largest economy. The announcement was seen as further alleviating trade tensions with the U.S.
Russia's currency slumped to a 16-month low and yields on local debt jumped to the highest level since November. The cost of insuring Russian dollar debt against default jumped to the highest since August.
Terminal users can read more in our markets live blog.
Here are the main moves in markets:
Stocks
The S&P 500 fell 0.6 percent and the Dow Jones Industrial Average dropped 0.9 percent, while the Russell 2000 gained 0.2 percent.
The Stoxx Europe 600 Index lost 0.6 percent.
The MSCI All-Country World Index declined 0.4 percent.
The MSCI Emerging Market Index added 0.1 percent.
The MSCI Asia Pacific Index was little changed.
Currencies
The Bloomberg Dollar Spot Index fell 0.1 percent to the lowest in more than two weeks.
The euro gained less than 0.1 percent to $1.2362.
The British pound was little changed at $1.4177.
The Japanese yen increased 0.3 percent to 106.86 per dollar.
Bonds
The yield on 10-year Treasuries dipped two basis points to 2.7808 percent.
Germany's 10-year yield decreased two basis points to 0.499 percent.
Britain's 10-year yield fell two basis points to 1.389 percent.
Commodities
West Texas Intermediate crude surged 1.9 percent to $66.78 a barrel, the highest since December 2014.
Copper fell 0.8 percent to $3.11 a pound.
Gold rose 0.9 percent to $1,351.10 an ounce.
— With assistance by Adam Haigh, and Samuel Potter
Quotes from this Article
Before it's here, it's on the Bloomberg Terminal.
LEARN MORE