business
A $250 Billion Nordic Wealth Manager Looks Beyond Trade Wars
By
Danske CEO comments on outlook after replacing wealth head

Trump has warned investors there might be 'a little pain'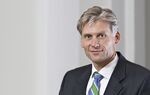 The wealth management unit of Danske Bank A/S, which looks after about $250 billion in assets, is operating on the assumption that a potential trade war between the U.S. and China won't derail the global economic upswing.
Thomas Borgen, the 54-year-old chief executive officer of Danske Bank, says "If you take big macro picture, we are underlying positive for the world economy, the European economy and the Nordics."

Trump Warns U.S. Investors of 'a Little Pain' in Trade Standoff
Borgen last week unveiled one of the biggest management reorganizations in his half decade at the helm of Denmark's largest bank, including appointing a new head of wealth management. Jacob Aarup-Andersen, Danske's 40-year-old finance chief, will replace Tonny Thierry Andersen, who is leaving the bank.
Borgen said Danske has been fielding daily inquiries from investors anxious about trade tensions between the White House and Beijing.
ECB's Coeure Warns Trade Wars Raise Burden on Central Banks
There's lots to keep track of, "but underlying we are positive on the world economy," Borgen said. "The stock market may be volatile, the bond market may be volatile. That we've been through before, and that we need to handle and we need to make sure that we give good advice to our clients."
The risk of an all-out trade war eased somewhat last week after the Trump administration and Beijing signaled they're willing to negotiation.
Kudlow, China Push Time-to-Talk Message Amid Trade Tension
"I hope it will be confined, as we see it now," Borgen said. "But of course that's something we need to watch."
Before it's here, it's on the Bloomberg Terminal.
LEARN MORE