business
O'Reilly's Secret Harassment Settlements Become Public
By
Ex-Fox News host battling defamation claims from three women

Judge throws out O'Reilly bid to seal settlement agreements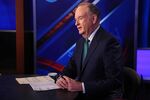 A U.S. judge made public the confidential settlement agreements between Bill O'Reilly and three former employees who accused him of sexual harassment, providing the first glimpse of the legal tactics the former Fox News host used to keep the allegations under wraps.
The documents show that in one provision, former producer Andrea Mackris, Fox and O'Reilly were required to "disclaim" any information about the settlement that becomes public. Another clause required Mackris's lawyer at the time to switch sides and provide legal advice to O'Reilly, while agreeing not to represent other O'Reilly accusers, her new attorney says in a related court filing.
The ruling allowing the documents to be made public came in a lawsuit pitting O'Reilly against former Fox producer Rachel Witlieb Bernstein, Mackris and contributor Rebecca Gomez Diamond. The three accused the former host and Fox of defaming them after the New York Times reported last year that O'Reilly and Fox had paid about $45 million to six women who had previously accused him of harassment.
U.S. District Judge Deborah Batts unsealed the documents on Tuesday, saying O'Reilly hadn't shown how his privacy would be violated if the pacts aren't kept secret. The former Fox host is also asking for the lawsuit to be dismissed or the case sent to arbitration.
O'Reilly Sued for Defamation by Ex-Fox Producer in Secrecy Twist
In a statement, O'Reilly's lawyer, Frederic Newman, said the only reason his client settled the harassment claims was to protect his children and that all settlement agreements were fully negotiated by plaintiffs with "experienced counsel."
"Confidentiality and arbitration were two critical terms for which Mr. O'Reilly bargained in good faith," Newman said. "For the past 14 years, Mr. O'Reilly has always respected the agreed confidentiality of the settlement agreements, but now that the provision has been breached, Mr. O'Reilly will be taking all appropriate legal action to enforce the agreements."
Irene Briganti, a spokeswoman for Fox News, responded to inquiries for comment by referring to the company's filing last month seeking to dismiss the case or send it to mediation and arbitration. At that time the network said the womens' claims are without merit and that the statements at issue weren't made by Fox News, didn't refer to the plaintiffs and weren't defamatory or disparaging.
The women argue in their lawsuit that O'Reilly defamed them and breached the settlement agreement by making disparaging comments following news of the accords.
O'Reilly repeatedly called the harassment claims a "political and financial hit job" and dismissed them as "crap," according to the women.
"O'Reilly's breaches profoundly prejudiced the plaintiffs -- instead of being drawn into a confidential arbitration proceeding, they have been subjected to months of defamation," lawyers for the women said in a court filing.
When Benedict Morelli, Mackris's initial lawyer, "changed sides" while negotiating the agreement for her and agreed to become O'Reilly's lawyer, he left her "virtually without legal counsel," Mackris's current lawyer wrote in the related court filing.
Morelli denied he represented O'Reilly during or after the settlement process.
"Every step we took was to negotiate the best possible deal for Ms. Mackris," Morelli said in an emailed statement Thursday. "We worked extremely hard to secure a significant financial settlement for her."
The case is Bernstein v. O'Reilly, 17-cv-9483, U.S. District Court, Southern District of New York (Manhattan).
(
Corrects reference to Morelli in third-to-last paragraph.
)
Before it's here, it's on the Bloomberg Terminal.
LEARN MORE