politics
McMaster Denounces Putin and His 'Pernicious Form of Aggression'
By
Trump's national security adviser is about to leave office

Speech at an event honoring the independence of Baltic nations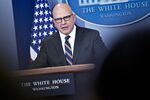 National Security Adviser H.R. McMaster, in his final days in office, condemned Russian President Vladimir Putin in a speech on Tuesday night.
He urged the world's democracies and their institutions to resist the Kremlin's "pernicious form of aggression that combines political, economic, informational, and cyber assaults against sovereign nations."
One act of that aggression, he said, was the recent nerve agent attack on a former Russian spy and his daughter in England. He called it "an attempted murder that endangered the lives of over 130 people, including many children." The incident prompted the expulsion of Russian diplomats by Britain, the U.S. and other countries.
"Some nations have looked the other way in the face of these threats. Russia brazenly, and implausibly denies its actions, and we have failed to impose sufficient costs," McMaster said in an address at an Atlantic Council event to mark the 100th anniversary of the independence of Latvia, Lithuania and Estonia.
Praise for His Boss
Last month, President Donald Trump announced that he was replacing McMaster, an Army lieutenant general, with John Bolton, a former United Nations ambassador and conservative commentator. Although Trump has been accused of being too accommodating toward Putin, McMaster, in his speech, praised the president for standing up to tyrants.
McMaster, who is expected to leave the White House when Bolton arrives next week, was unsparing in his denunciation of Putin.
"Mr. Putin may believe that he is winning in this new form of warfare," McMaster said. "Perhaps he believes that our free nations are weak and will not respond to his provocations. He is wrong."
"We might all help Mr. Putin understand his grave error."
The U.S. recently expelled 60 Russian diplomats, and at a news conference with the leaders of the three Baltic nations earlier Tuesday, Trump said that "there's nobody tougher on Russia" than him. He added, however, that he still wants a good relationship with Putin.
Ties between the U.S. and Russia have come under strain since Trump ordered the diplomats' expulsion and the closing of the Seattle consulate. Moscow reciprocated, expelling U.S. diplomats and closing the St. Petersburg consulate.
Trump rebuked McMaster in February after the national security adviser made critical remarks about Russia in a speech to the Munich Security Conference. He accused of Russia of engaging in a "sophisticated form of espionage" during the 2016 election, Trump, in a tweet, said that his national security adviser had neglected to defend his victory.
"General McMaster forgot to say that the results of the 2016 election were not impacted or changed by the Russians and that the only Collusion was between Russia and Crooked H, the DNC and the Dems," Trump tweeted, using a derogatory epithet for Hillary Clinton.
— With assistance by Margaret Talev
Before it's here, it's on the Bloomberg Terminal.
LEARN MORE