markets
Fed Officials Warn That Tariff Brawl Clouds Interest-Rate Path
By and
Bullard says yields could be tugged lower, limiting rate hikes

Trade war 'a material uncertainty in the outlook': Brainard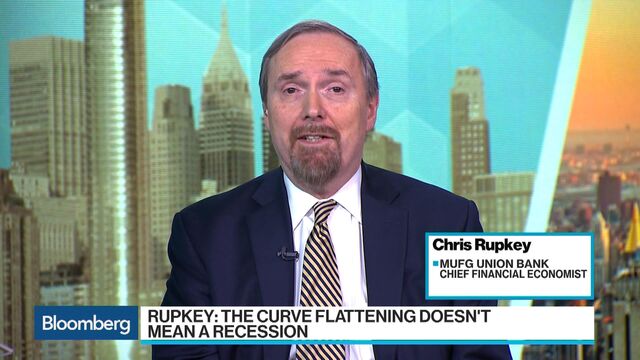 Federal Reserve officials warn an escalating trade dispute between the U.S. and China is adding an unwelcome layer of doubt to an otherwise bright economic outlook, though it's premature to say what the fallout means for jobs, inflation or monetary policy.
"It increases the uncertainty around the forecast," St. Louis Fed President James Bullard told reporters Wednesday in Little Rock, Arkansas. "It does present some downside risk, but generally speaking it is too early to tell what the actual impact will be on the U.S. economy."
U.S. stocks retreated early Wednesday as investors digested overnight retaliation by Beijing to President Donald Trump's imposition of tariffs on $50 billion of Chinese goods, which fanned concern the two economic superpowers were marching toward a full-scale trade confrontation. Equities retraced those declines during the day, with the S&P 500 Index ending up 1.1 percent in New York after earlier dropping as much as 1.6 percent.
Bullard, an outlier among Fed officials in wanting to keep interest rates on hold for the rest of this year, said investor anxiety may suppress Treasury yields, in turn limiting the Fed's ability to fulfill projections for another two rate increases in 2018, because further hikes might invert the yield curve.
'More Uncertainty'
"I would see more uncertainty keeping longer rates lower than they would otherwise be. Therefore that could feed back to policy and possibly keep short rates lower than they otherwise would be as well," he said.
U.S. central bankers raised rates a quarter point last month and penciled in two or three more increases this year on the basis of an outlook that saw solid U.S. growth and further reductions in unemployment which, at 4.1 percent in February, is already at its lowest levels since 2000.
Fed Governor Lael Brainard, speaking in New York Tuesday before China announced its response to the U.S. tariff list, said trade policy is "a material uncertainty" to the outlook. "I think it's very hard to say now, how that could evolve -- but it's certainly something that I take into account, in thinking about risks."

Trump's opening move in the trade stand-off involved tariffs on steel and aluminum imports, though the White House subsequently granted exemptions for some U.S. allies.
GDP Reduction
Researchers at the Dallas Fed said the metals tariffs would probably reduce U.S. gross domestic product by a quarter-percentage point over the long run in an analysis published Wednesday on the bank's website. U.S. metals producers would benefit, and companies that use those materials as production inputs -- such as machines and equipment manufacturers -- would take a hit, said the authors, Michael Sposi and Kelvinder Virdi.
"The consequences accompanying retaliation and a potential trade war could prove far more potent," they wrote. A scenario in which "the EU and the U.S. engage in a trade war by imposing prohibitively high tariffs across all goods-producing industries, and the U.S. and China engage in a trade war by imposing prohibitively high tariffs across every industry" could reduce GDP by 3.5 percent, according to the analysis.
The good news for Trump: the U.S. trade deficit with China would shrink to zero under that scenario, the paper said.
Still, once the dust settles, the U.S. could yet emerge a winner.
"What is it going to mean longer term for U.S. exports?" said Minneapolis Fed chief Neel Kashkari, answering a trade-war question at an event Tuesday in Duluth, Minnesota. "We're certainly going to have to avoid a trade war, but if it eventually ends up a way to open up markets, that could be a net positive over the long term."
— With assistance by Jeanna Smialek, and Christopher Condon
(
Updates with U.S. stocks closing higher in third paragraph.
)
Before it's here, it's on the Bloomberg Terminal.
LEARN MORE