business
BHP Union Leader Sees Good Prospects for Wage Deal at Giant Mine
By
More conciliatory tone augers well for slew of wage talks

Negotiation last year ended in 44-day strike and no wage deal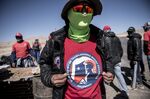 Copper bulls battered by trade tensions have some more bad news to deal with from Chile, where the union at BHP Billiton Ltd.'s Escondida gave the strongest indication yet the giant mine may avoid a strike this year.
Union and company delegates have started early talks on a new collective contract after the two sides failed to reach an agreement last year despite a 44-day strike. This week's negotiations indicate both sides are disposed to reach an agreement, according to Union No. 1 President Patricio Tapia.
"We did some soul-searching," Tapia said in an interview from Antofagasta. "If we had continued with that line of confrontation, we would have never reached an agreement."
While Tapia continues to blame the company for last year's impasse, his conciliatory tone could encourage mines representing about three quarters of Chilean production that are negotiating contracts this year. At some operations, talks will happen for the first time since copper prices recovered from a painful downturn.

Escondida is the world's biggest copper mine and last year's tense negotiations and lengthy stoppage helped push up prices. The metal is down more than 7 percent this year amid fears of a nascent trade war between economic superpowers China and the U.S.
"Last year there was never a negotiation, it was an imposition from the company where they wanted to take away some of our benefits and make us work more for the same money," Tapia said. "Now we are negotiating."
The union has presented its proposal and is waiting to hear the company's response, Tapia said. He refused to give specific demands, but said that an overall increase of 5 percent to 8 percent on wages, benefits and bonuses would be seen as "good" by workers. Below that would be "bad," while above would be "very good," he said.
Feeling Empowered
The union expects the negotiation to go on for at least three weeks. The company is well disposed to reach an agreement, a BHP official said by telephone.
Any attempts to reduce current benefits or impose different rights for old and new workers -- key points of conflict in the last negotiation -- will lead to the union leaving the table, he said. 
Escondida workers say they are Chile's most productive miners and that the company is trying to do more with less after about 3 percent of the workforce was affected by a "rationalization" plan in October.
The company's production target for the year through June is 1.26 million metric tons, up from about about 1 million tons the previous year, Tapia said. In January, the company forecast 1.13 million tons to 1.23 million tons for the fiscal year.
The sole union representing operators and maintenance staff at the mine feels empowered after an attempt by a group of workers to set up a second union earlier this year failed to gather enough support. Those behind the initiative said they wanted to break away from the union's confrontational strategy.
"We came out of that much, much stronger," Tapia said. "We have the support of our members and they feel completely empowered after we stood our ground."

Before it's here, it's on the Bloomberg Terminal.
LEARN MORE