politics
Trump Says He's Tough on Russia But Still Wants Good Relationship With Putin
By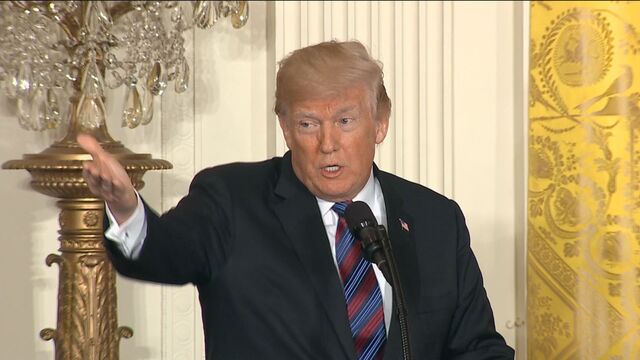 President Donald Trump declared that he's tough on Russia after expelling 60 of the country's diplomats this month and raising the U.S. military budget, but that he still wants a good relationship with Vladimir Putin.
"There's nobody been tougher on Russia," Trump said in a news conference at the White House with Baltic leaders.
He added that "getting along with Russia is a good thing" but "there's also a great possibility that won't happen. Who knows?"
Security was a major theme of Trump's meeting on Tuesday with the leaders of Latvia, Lithuania and Estonia amid concerns about Russian aggression in Europe. The Baltic republics spent decades under Soviet domination and are now NATO members.
The relationship between the U.S. and Russia is strained after Trump ordered the diplomats' expulsion and the closing of the Seattle consulate after the attack last month on a former Russian spy in the U.K. Putin reciprocated, expelling U.S. diplomats and closing the St. Petersburg consulate.
The Kremlin also revealed on Monday that Trump proposed a White House summit with Putin in a March 20 phone call. The White House acknowledged discussions about a possible summit and said the Washington came up as a potential location.
The tensions also are an outgrowth of U.S. sanctions on Russia for meddling in the 2016 U.S. elections. Special counsel Robert Mueller is investigating the interference to determine whether any Trump campaign officials colluded with Putin's government.
— With assistance by Ilya Arkhipov, Jennifer Jacobs, and Justin Sink
Before it's here, it's on the Bloomberg Terminal.
LEARN MORE