technology
Fiat Chrysler Shuns Cars `No One Wants' as SUVs Spur a Sales Win
By and
Jeep surge ends 18-month-long streak of U.S. delivery declines

Hackett to emulate Marchionne by dumping cars for crossovers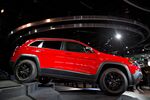 Fiat Chrysler Automobiles NV sold more vehicles to regular U.S. consumers than Ford Motor Co. last month, a rare victory that shows the strength of America's SUV boom.
Soaring deliveries of Jeep sport utility vehicles -- including a more than sixfold jump for the redesigned Compass model -- carried Fiat Chrysler to a 14 percent surge in total March sales. The automaker topped crosstown rival Ford when excluding shipments to rental-car companies and other fleet customers for the second time since 2010.
The sales results are the latest indication that the explosion in SUV demand the last few years is here to stay. Ford Chief Executive Officer Jim Hackett is taking a page out of the playbook of Fiat Chrysler's Sergio Marchionne by cutting some cars from the lineup and retooling factories to build more of the crossovers, off-roaders and big rigs that American consumers crave.
"Marchionne looks like the smartest guy in the industry right now," Maryann Keller, a longtime auto industry analyst and consultant in Stamford, Connecticut, said by phone. "Why beat yourself over the head selling cars no one wants?"
Ford, General Motors Co. and Honda Motor Co. also reported bigger-than-expected bumps in March sales, sending U.S. automakers' stocks higher. Shares rose as much as 9.6 percent for Fiat Chrysler, 4.4 percent for GM and 3 percent for Ford as of 3:10 p.m. in New York.

"It was a blockbuster month and beyond what was anticipated," Michelle Krebs, a senior analyst with Autotrader, said by phone. "There were some incentives, but tax refunds are coming in and the economy is good."
With Fiat Chrysler and GM trouncing expectations for small increases in March deliveries, the annualized pace of vehicle sales, adjusted for seasonal trends, surged to 17.5 million. The rate was the best this year, easily beating analysts' average projection for 16.8 million.
So Long, Monthly Sales
GM's deliveries surged 16 percent in March, triple the percentage gain analysts had been expecting. The company is throwing a wrench in the industry sales reporting process by announcing a plan to end a 25-year-long practice of disclosing monthly results and shifting to quarterly releases. The move will better separate "real" demand trends from "short-term fluctuations," said Kurt McNeil, U.S. vice president of sales operations.
Read more: Ford mulls following suit with its sales reporting
Honda deliveries climbed 3.8 percent and beat estimates, as sales of the Pilot SUV jumped 42 percent. Toyota Motor Corp. and Nissan Motor Co. missed projections as Camry and Altima sedan deliveries dropped.
Ford's light-vehicle sales rose 3.5 percent, as record March deliveries of the company's SUVs helped to outpace the 0.8 percent gain analysts had been forecasting. The company will be better off after replacing the Escape crossover and Explorer SUV with redesigned versions soon, Mark LaNeve, Ford's U.S. sales chief, said on a conference call Tuesday.
"There have been months on occasion where FCA outsells us on a retail basis -- in any given month a lot of different things can happen," LaNeve said. "We're not going to blow our brains out on incentives on these products at the end of their life cycle and damage the brand health."
Killing Cars
Hackett, 62, is planning to shrink Ford's passenger-car lineup. The only sedans and coupes that will survive will be low-volume, higher-priced models that'll help toward the company's goal to boost profit margins.
Marchionne, 65, has already killed off the Dodge Dart and Chrysler 200 to reorient Fiat Chrysler around Jeep SUVs and Ram pickups. The company's blowout sales in March snapped an 18-month streak of total U.S. deliveries declines, in part due to the challenge of converting car factories over to manufacturing Jeeps and Rams instead.
Ford is already following suit. About 2,000 workers at the company's assembly plant in Wayne, Michigan, will be temporarily dismissed for more than five months this year to shift from making slow-selling Focus compact cars and C-Max hybrids to Ranger pickups and the revived Bronco SUV.
"We'll go from one of the oldest utility lineups in the industry to one of the freshest within a very short period of time, within really the next couple of years," LaNeve said.
— With assistance by Sophie Caronello
Before it's here, it's on the Bloomberg Terminal.
LEARN MORE