Israel Threatens More Force After Gaza Protests Leave 16 Dead
By , , and
Liberman dismisses calls for independent investigation

U.S. blocks Security Council call to investigate confrontation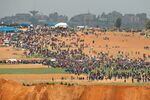 Israel threatened to use greater force to quell violent Palestinian protests along the Gaza Strip border, rejecting allegations it used excessive firepower against demonstrations that left at least 16 Palestinians dead.
Friday's protests, which Israel estimated drew 40,000 people, were the first of six weeks of planned anti-Israel actions meant to dramatize the Palestinians' plight as refugees. Israel said Sunday that Gaza militants used civilian demonstrators as cover as they fired at soldiers and tried to lay explosives near the border fence. Ismail Haniyeh, the leader of the militant Hamas group that rules Gaza and sponsored the protests, called the killings a "massacre."
Israeli Defense Minister Avigdor Liberman dismissed calls at the United Nations and in Israel for an independent inquiry into action he said was taken to protect his country's border. In an interview with Israel Radio, he warned that the army "can respond more harshly next time" and would not "hesitate to use everything we have."
The death toll was the highest daily casualty count in Gaza since Israel's war with militants there in 2014. While its organizers claim its intent is peaceful, they've conceded it could get out of hand. Israel's biggest fear is that the protests will lead to a mass attempt by militants and civilians to breach the border.
Jerusalem Flashpoint
The six weeks of demonstrations, bookended by significant dates on the Palestinian calendar, come as Hamas finds itself crippled financially by the West Bank-based Palestinian Authority. Tensions are also high in both territories over the perception that President Donald Trump has adopted Israel's positions on the conflict. Abbas severed ties with the White House after its December recognition of Jerusalem as Israel's capital, and has pledged to reject a yet-to-be-released U.S. peace plan.
"What happened is the beginning of a new Palestinian uprising," said Mkhaimer Abusada, a political scientist at Gaza's Al-Azhar University. "In Gaza they feel the international community has ignored the issues of occupation, refugees, settlements and the humanitarian crisis here. They're breaking the silence, expressing the anger that has been building up for years."
Abbas called for international protection for the Palestinians after Friday's violence.
Three-Ring Protest
Israeli military spokesman Brigadier General Ronen Manelis accused Gaza armed factions of trying to turn the border into a battle zone. "It's a performance: The face of the protests is civilian, but behind it are people from military groups," Manelis said in a phone interview.
Israel's Haaretz newspaper described three concentric rings of protesters Friday: Families gathered peacefully at tent camps Hamas set up about a half-mile from the fence. Closer to the border, rioters threw Molotov cocktails and rolled burning tires at Israeli troops. Some protesters were shot when they tried to rush the fence, the paper reported.
The army said at least 10 of the dead Friday were known militants, and gave their names, organizations and positions. Hamas identified five of the dead as members of its military wing.
Sniper Video
A video purporting to show an unarmed teenager being gunned down by Israeli sniper fire circulated widely on Palestinian media. Overnight Saturday, the U.S. blocked a Security Council resolution blasting the Israeli actions and calling for an investigation.
Michael Oren, Israel's deputy minister for public diplomacy, dismissed claims that Israel used disproportionate force.
"The force used was absolutely in accordance with international law, with international norms," he said by phone.
Army spokesman Manelis dismissed the military's removal of a tweet saying it knew where every bullet landed. He said the figure of more than 1,400 injured Palestinians, which came from Gaza's Hamas-run Health Ministry, was wildly exaggerated.
"We'll check every bullet, but the use of fire was very exact," he said. "If we had fired indiscriminately there would have been many more casualties."
'All of Palestine'
Appearing at the tent camps Friday, Haniyeh presented the march as a rebuke to the U.S. peace effort and said it marked the beginning of the Palestinian return to all of what is now Israel.
On Sunday, he called the killings "premeditated."
"The occupation had the intention to kill because there was no serious or risky action for the massacre to be committed against our people," he told reporters in Gaza. A schoolboy he rewarded for attending the protest went there to tell Trump "your plan called the deal of the century won't pass," he said.
— With assistance by Yaacov Benmeleh
Before it's here, it's on the Bloomberg Terminal.
LEARN MORE