Turkish Economy Outperformed China, India in 2017
By and
GDP expanded 7.4% last year, and 7.3% in fourth quarter

IMF has warned of imbalances due to strong demand, oil prices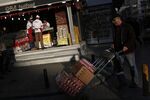 Turkey's economy expanded faster than China and India last year thanks to a surge in spending both by households and the government.
Gross domestic product rose 7.4 percent in 2017, with fourth-quarter output up 7.3 percent, Turkstat reported Thursday, beating the median 6.7 percent estimate in a Bloomberg survey. Seasonally adjusted output rose 1.8 percent from the previous three-month period, also beating estimates.
Turkey has rebounded from a slump that followed the failed military coup in July 2016 to become one of the fastest-growing economies in the G-20 group of nations. The trend is likely to continue this year, according to Aktif Yatirim Bankasi chief economist Ozlem Yetkin, with households continuing to spend on everything from appliances to food and health care.
By comparison, China and India grew 6.9 percent and 7.1 percent respectively last year, according to official data.
"Households were the biggest contributor and going forward, consumption growth will remain solid in 2018" assuming no increase in financial volatility or the recent slump in the lira becoming prolonged, said Yetkin, whose estimate was the most accurate in the survey. She expects household spending to be near the government's 5.5 percent growth target this year.
The lira strengthened 0.3 percent to 3.9993 per dollar at 11:42 a.m., while the yield on Turkey's 10-year lira bonds fell 6 basis points to 12.76 percent, according to data compiled by Bloomberg.
IMF Warning
But Turkey's rapid growth has also drawn a warning from the International Monetary Fund, which said last month that Turkey's current-account gap could widen due to strong domestic demand and higher oil prices. That deficit is closely tracked by investors because Turkey relies on capital inflows to finance it, leaving the economy vulnerable to sudden changes in sentiment.
The gap is expected to widen to 5.3 percent of GDP this year from 5.2 percent in 2017, which would make it the largest such shortfall among G-20 member states, according to economists' predictions compiled by Bloomberg.
Turkish household consumption, which makes up about two-thirds of the economy and has traditionally driven growth, rose 6.6 percent in the fourth quarter from a year earlier. Public spending on purchases of goods and services rose 7.4 percent in the same period.
Exports of goods and services expanded 9.3 percent in the last three months of the year on an annual basis, while imports grew 22.7 percent.
Quotes from this Article
Before it's here, it's on the Bloomberg Terminal.
LEARN MORE