Egypt's El-Sisi Bags Election Win Against 'Mousa Something'
By
Initial count shows 40 percent turnout, lower than 2014 race

With no credible challengers, El-Sisi's victory was certain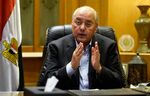 Egyptian President Abdel-Fattah El-Sisi was set to sweep to victory with more than 90 percent of the vote in this week's election, crushing his one token challenger after credible competitors were eliminated before the contest.
With the outcome a foregone conclusion, all eyes were on turnout and the government and its supporters launched a full-throttle push to get people to the ballot box, with some voters saying they were offered freebies and incentives to participate.
Preliminary results published by state media suggest a turnout of about 40 percent. That falls short of the roughly 47 percent turnout in the 2014 race that cemented El-Sisi's rule, a year after he overthrew an elected Islamist president on the back of mass protests.
Trumpeting the unofficial results, state television declared El-Sisi was out in front.
Mousa Mostafa Mousa -- a little-known politician dubbed by a Facebook wag as "Mousa Something Mousa" -- wasn't expected to win, and he didn't disappoint. Early counts gave El-Sisi 92 percent to Mousa's 3 percent, meaning he got fewer votes than the total of invalid ballots, state media reported. Bad ballots accounted for more than 6 percent of votes cast.
As all credible challengers were either barred, arrested or withdrew before campaigning began, the election was widely seen as a referendum on El-Sisi's policies. Critics said it cemented a return to the sham elections, with no genuine choice and widespread irregularities, which prevailed before the 2011 uprising that ended Hosni Mubarak's three-decade rule.
Quicktake: Egypt's revolution has come full circle
"At least in a referendum people could vote no. That would be more choice than Egyptians had this week deciding between El-Sisi and a man who had endorsed his re-election," said Timothy Kaldas, non-resident fellow at Tahrir Institute for Middle East Policy. "El-Sisi's presidency is frankly more brutal in its authoritarianism and intolerance of critical speech than what we witnessed under Mubarak."
"Voice of all Egyptians"
The concerted push for votes laid bare the stakes. While there had been no question of a win by El-Sisi, a solid turnout would have allowed the government to shut down naysayers who contend the president's crackdown on dissent has crushed democratic hopes.
Politically, the former general has shown little tolerance for criticism. Hundreds of Islamist opponents have been killed and thousands jailed since he took power, while the net has widened to include secular critics.
On the economy, El-Sisi has embarked on reforms that have been lauded by the International Monetary Fund but proved painful for ordinary people in a country where more than 27 percent lived in poverty even before the measures. Inflation has soared since Egypt floated its pound in 2016 and began a program of subsidy cuts. Egyptian stocks, however, had their best month since currency controls were lifted.
"The voice of all Egyptians will bear witness, without doubt, that the will of our nation is imposing itself with a strength that knows no weakness," El-Sisi said on his official Facebook page, as he lauded voters on the last day of voting.
From day one of the three-day voting extravaganza, officials went to great lengths to get out the vote, tugging at patriotic heartstrings but also warning those who stayed home would incur 500 pound penalty. Separately, youths sporting T-shirts urging participation were stationed outside polling stations and some voters were bused in with the promise of free food and refreshments. There was no indication that the government had tried to sway voters.
Even in 2014, when El-Sisi was at the height of his popularity after leading the military-backed ouster of Islamist President Mohamed Mursi, the voting period was extended after fewer-than-expected voters showed up to a race whose outcome was already known.
Official results will be released April 2 by the elections authority, but state media has been reporting and tallying figures from individual polling stations.
— With assistance by Lin Noueihed
Before it's here, it's on the Bloomberg Terminal.
LEARN MORE