markets
Clouds Gathering Above European Stocks After Dismal Quarter
By and
With rollover in macro, resurgence of euro rally, stocks sag

Mood has changed from "buy the dip" to "sell the rebounds"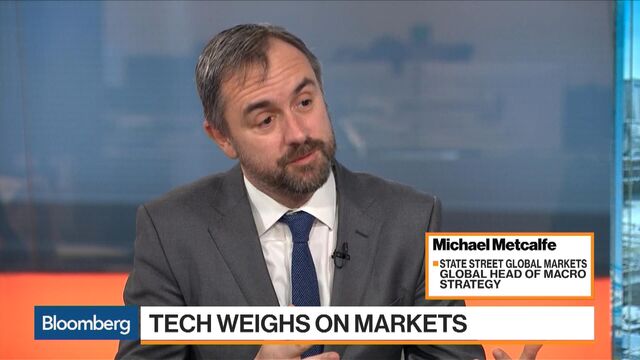 This was supposed to be the year when a raft of good news would send the Stoxx Europe 600 Index within flirting distance of 2015's record high. So far, investors have gotten the opposite.
February's rout -- sparked by a quick surge in U.S. bond yields and fueled by a sudden tech selloff -- rolled into fears of a global trade war. Strategists who advocated "buying the dip" are starting to recommend "selling the rebounds" as a strengthening euro and disappointing economic indicators and darkening the outlook.
Currency Pain
The euro's rise above $1.24 this week amid trade war concerns has brought currency jitters back onto traders' radar screens. European companies get roughly half their sales from abroad, so the direction of the euro matters, and the currency's strength last year curbed the gains in stocks. According to a Goldman Sachs Group Inc. strategy note published in January, a 10 percent rise in the single currency takes about 1.5 percentage points from the region's earnings growth.

Bargain Hunters on the Lookout?
As the Stoxx Europe 600 entered correction territory this week -- falling more than 10 percent from its peak in late January -- the index's 12-month forward price-to-earnings ratio hit its lowest level since June 2016, while its dividend yield has surged to 3.8 percent, some 330 basis points above Germany's 10-year bund yields. For Morgan Stanley strategists, Europe's valuations are now "looking very attractive." In a note on Wednesday, they list stocks offering good "entry points" following the recent selloff.

Cheap, Relatively Speaking
The "paradox'' that has been bothering European equity bulls, including Natixis SA strategist Sylvain Goyon, is the European equity market's inability to catch up with the gains on Wall Street last year despite robust earnings growth. Equity valuations in Europe compared with the U.S are currently near the cheapest level since 2009. Worries about a stronger euro are partly to blame for the underperformance, but something else is now keeping investors up at night: the fear of a rollover in the region's macroeconomic data.

It's the Economy, Stupid
Stocks have started to feel the pain from the slowdown in the region's economic momentum, and a Citigroup Inc. gauge measuring economic surprises in the euro area has now turned negative this year, while a similar gauge for the U.S. is still in positive territory. For Conor Howell, head of broker GFI for Ireland, the rollover in the euro-area business climate indicator -- which fell for a third consecutive month after reaching a peak in December - is a clear 'sell' signal for European stocks. The index sank 23 percent during the following three months in 2011, the last time that happened.
Gone Missing: Earnings Growth

Good earnings growth would probably help eclipse a lot of investors' worries on things like geopolitical risks and interest rates. But the problem is, it's currently missing, according to Bloomberg Intelligence strategist Laurent Douillet. "As 1Q ends, projected growth for 2018-19 is actually slipping due to strong currency effects," he wrote in a note on Tuesday.
After an 18 percent jump last year, profits for Stoxx 600 companies are expected to rise 4.3 percent in 2018, according to Bloomberg data. This is far below the 21 percent earnings growth expected for S&P 500 companies this year.
— With assistance by Aleksandra Gjorgievska
Before it's here, it's on the Bloomberg Terminal.
LEARN MORE