Politics
'Cryptodad' Regulator Catches Some Twitter Heat
CFTC chief J. Christopher Giancarlo, beloved by the crypto crowd, is learning the pitfalls of Twitter fame.
By and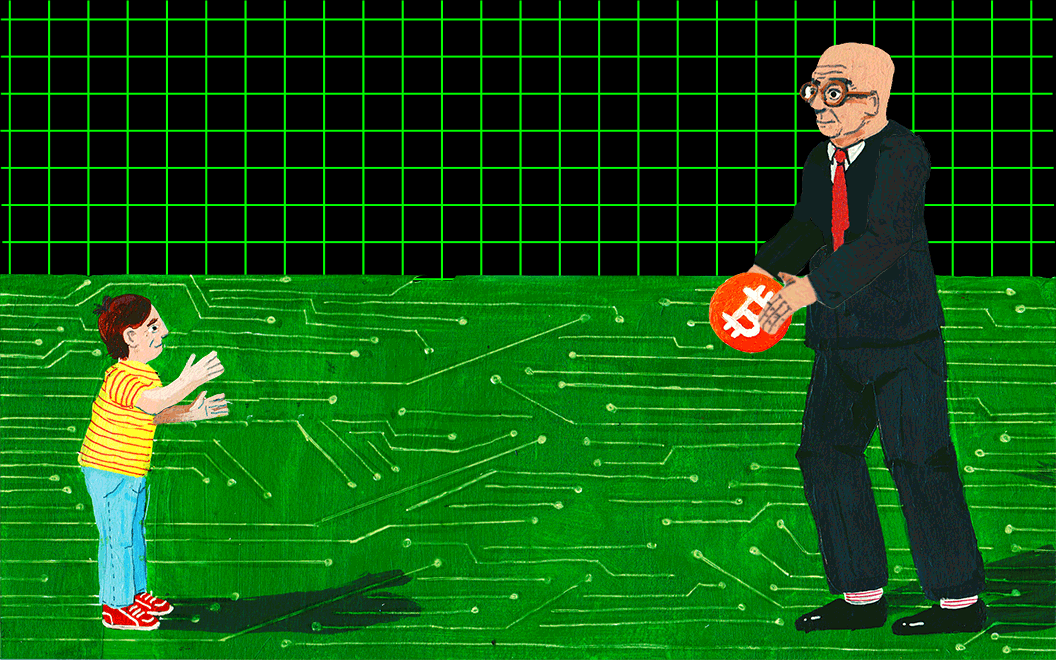 Commodity Futures Trading Commission Chairman J. Christopher Giancarlo has blown up on Twitter recently, gaining tens of thousands of followers almost overnight after enthusiastically testifying in February to Congress about digital currencies. The balding, bespectacled 58-year-old regulator now has 49,000 Twitter followers and is regularly lauded in memes that call him "Bitcoin Jesus" and "one of us! one of us!" He's even embraced the slightly dorky hashtag given to him by the Bitcoin masses: #cryptodad.
His new-found fame has also come with a downside, as he's made some serious, unforced errors trying to be active on social media. He had his account impersonated by people, making it look as if he's asking for crypto donations for the government. A few weeks later, he inadvertently drew attention to a potential violation of an open meeting law when he tweeted a picture of a Republicans-only meeting he had about coordinating swaps rules. Apart from causing strife with his CFTC colleagues and Democrats on Capitol Hill, the Twitter circus around Giancarlo's posts is causing some investor advocates to worry that it may encourage people to buy into a risky product few of them understand.
A former executive at a swaps brokerage, Giancarlo has taken more of an interest in the crypto world than other Washington regulators. His agency allowed the trading of Bitcoin futures late last year, a move Giancarlo credits with helping stabilize the market and reduce the coins' wild price swings from record highs.
Giancarlo's Twitter issues began cropping up after he testified before the Senate Banking Committee on Feb. 6, when his account was mimicked by scammers. Using his picture and a Twitter handle similar to his, they solicited Bitcoin donations. Although some of the bogus accounts have been taken down, at least one is still around. "NO ONE should send me any donation or contribution of any kind in any form, currency or coin,'' Giancarlo tweeted on Feb. 9.
A couple of weeks later, Giancarlo reposted a seemingly anodyne tweet of a photo of a meeting he hosted to discuss swaps rules with members of the Securities and Exchange Commission. "We're off to great start!'' he noted. That was news to CFTC Commissioner Rostin Behnam, a Democrat who read the posting and felt he'd been excluded from high-level talks. To him, the photo clearly showed that Giancarlo had invited only the CFTC's Republican commissioner and two Republicans on the SEC, including Chairman Jay Clayton. 
Behnam says he has always been open to working with his Republican colleagues on policy matters. Face-to-face meetings, he adds, are vital to cooperation and comity in a way that the online world is not. "I am concerned that, as we increasingly forgive and forget process and instead engage through 'tweets' and 'likes,' we risk losing opportunities to collaborate,'' Behnam says. "It is unfortunate that I only learned [of the event's details] after the fact through a tweet from the chairman's account.''
Democrats in both the House and Senate, citing Giancarlo's tweet, are asking whether the Republican get-together violated a federal open meeting law, known as the Government in the Sunshine Act. It generally requires that agency deliberations be held in public when a majority of the commission is present. Because the CFTC has only three of its five seats filled, that means that a meeting with two commissioners can trigger the law. A remaining issue is whether Giancarlo and Republican Commissioner Brian Quintenz discussed policy matters during the Feb. 27 event. Both say they did not.
The CFTC general counsel's office, in a response to Bloomberg News, said that the Sunshine Act rules weren't triggered by the meeting because interactions "were limited to factual or clarifying questions, such as timelines for completion of rule proposals."
Erica Richardson, a CFTC spokeswoman, says Giancarlo "views Twitter as a valuable platform to reach diverse audiences on customer education.'' He recently got his account officially verified by the platform. Richardson adds, "he will continue to use Twitter to drive followers to the CFTC's educational materials." As for concerns that Giancarlo"s Twitter is encouraging investors to buy into Bitcoin, Richardson said that isn't the case. "The Chairman has tweeted a whopping total of 12 times since his testimony to the Senate Banking Committee that garnered such interest in the CFTC's work on cryptocurrency," Richardson said. "Nine of these tweets have been about investor protection and the proactive regulatory work the agency is doing on FinTech and cryptocurrency."
She declined to comment specifically about the flap with Behnam. A person familiar with the matter from the chairman's office said Behnam's staff had been briefed in January on the agencies' plans to coordinate swaps rules.
Senators Debbie Stabenow of Michigan and Sherrod Brown of Ohio, both Democrats, demanded an explanation in a March 6 letter to Giancarlo and Clayton. The meeting, they wrote, "sends an unfortunate and perhaps unlawful message of exclusion and reluctance to consider additional viewpoints."
The next day, at a House Appropriations subcommittee meeting, Giancarlo insisted that the meeting was legal and didn't fall under the Sunshine Act because no substantive business was discussed. The CFTC's general counsel, he added, made sure there were no violations. "I'm almost uncomfortable with calling it a meeting; it was a briefing,'' he told Representative Rosa DeLauro, a Connecticut Democrat.
Giancarlo also disputed DeLauro's contention that the meeting was partisan, telling her that Behnam "was briefed on all the issues discussed at the meeting in advance." That explanation doesn't quite jibe with Behnam's assertion that he learned about the meeting through Twitter. Nor does it fully comport with Giancarlo's own tweet about the meeting, in which he says the meeting was "to discuss'' making the CFTC and SEC's rules better-aligned.
Public Citizen, a left-leaning advocacy group, has asked the CFTC's inspector general to investigate whether the meeting was in violation of the Sunshine Act. The group could also sue to enforce the law in federal court. 
SEC chief Clayton declined to comment through a spokesman. Clayton hasn't shared any of his thoughts about the meeting on Twitter. That's because he doesn't have an account.
(Updated with comment from CFTC spokeswoman in 9th paragraph)
Before it's here, it's on the Bloomberg Terminal.
LEARN MORE