Economics
Germany Courts Workers With Sausages and Cheap Housing
Unemployment is at a record low and more than a million jobs are open, creating perks like foreign travel and local ham platters for new workers.
By , , and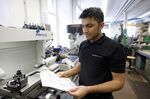 Jakob Kratsch isn't a Harvard Business School grad, an elite engineer, or a software whiz. He's a 20-year-old manufacturing apprentice. And yet, a century-old factory near what was once the border between East and West Germany found him so desirable that the company included the possibility of a free trip to New York in his recruitment package.
As a top performer in his first year, Kratsch got to spend three days visiting tourist sites such as the Empire State Building and Times Square, and met with management at Harry's Inc., a New York shaving-kit maker that four years ago bought the razor-blade plant where he works.
"What kind of young person is able to go to New York and have their company pay for it?" Kratsch asks during a brief break from the din of metal work on the factory floor. "It builds a strong connection to the company."
The scramble for qualified workers has become an existential issue for companies across Germany, which are offering enticements ranging from overseas sojourns and ski outings to subsidized housing and sausage platters. After years of robust growth, unemployment has dropped to a record low of 5.4 percent, and the country has 1.2 million unfilled jobs—nearly equivalent to the population of Munich. Manufacturing, construction, and health care are particularly stretched, and 1 in 4 businesses may have to hold back production as a result of the labor crunch, the European Union reports.

Recruiting is "a huge challenge—that's something we have in common with companies across Germany," says Maren Kroll, head of human resources at Kratsch's factory in Eisfeld, three hours east of Frankfurt by car. Harry's, which employs about 550 people at the plant (and lists almost 40 open positions on its website), seeks to keep workers happy with extras such as subsidized lunches, English classes, and a share-distribution program.
"Talented professionals are hard to find," says Kroll, "so we have to create conditions that are attractive."

The corporate largesse hasn't dramatically boosted salaries, at least so far. Compensation in Germany rose 13 percent in the last five years as unions moderated wage demands to help their companies maintain an edge in the face of growing global competition. And labor groups have chosen to put quality-of-life concessions over hefty raises; the country's biggest union this year accepted a lower increase in salaries in exchange for the right to work fewer hours.
Even as unemployment bottoms out, "I wouldn't expect pay to rocket," says Jamie Murray, chief Europe economist for Bloomberg Economics. "The German labor market has been tight for a long time."

The danger for Germany is that growth could stall out if the labor crunch worsens. After the economy expanded by 2.2 percent in 2017, the highest rate in six years, the German central bank warned that a surge in retirees and slower migration will constrain the supply of labor. "There is a risk that if there aren't enough workers, some things will no longer be produced in Germany," says Raimund Becker, an executive at Germany's federal employment agency.
Many companies look beyond Germany's borders to fill vacancies. About 400 kilometers (260 miles) southwest of Eisfeld, nestled among the steep hills of the Black Forest, an auto parts manufacturer called Burger Group has made a point of recruiting workers from abroad and helping them integrate into the community.
Obeid Allah Norzi, 18, joined a trainee program in September after a grueling odyssey that took him from his home in Afghanistan to Iran, Bulgaria, and finally Germany, where he was granted political asylum. "I am very happy to be here," Norzi, one of two refugees at the plant, says in near-flawless German.
He services machine tools for the company, which produces gears and other components for Porsche AG and Bayerische Motoren Werke AG, motors for coffee grinders and food processors, and a few mechanisms for cuckoo clocks—which Burger has made since 1856. The business pays for Norzi's German-language classes, and he lives in one of 60 company-owned apartments spread across the wooded landscape around Schonach, a town of 4,000 whose main attraction is the world's largest cuckoo clock.
"Personnel is our bottleneck," says Silke Burger, one of four family members who own and run the company. "We're producing at the limit."

Part of the pitch to foreign workers—they account for a third of the staff—is a program called Burger Care, which offers help with Germany's daunting bureaucracy, a welcome platter with local ham and sausages, and frequent social activities such as group hikes, ski trips, and soccer matches.
The warm reception appealed to Dariusz Foerster, a 42-year-old machine operator from Poland, who spent a year bunking at Burger's so-called Black Forest Boarding House before bringing over his wife and two sons.
"The company does a lot to make us feel welcome," Foerster says after wrapping up a shift grinding metal rods into gears. "The work is the same as my company back home, but the money is much better," he says, with starting salaries about triple what he earned there.
For Germany, immigrants have long been a cushion in times of tight labor markets, but that's changing. The Bundesbank has warned it will become increasingly difficult for businesses to lure workers from neighboring countries as wages in Eastern Europe catch up. Net migration from those places has eased since 2015, and when more Poles such as Foerster decide to stay home, locals like Kratsch will be able to be even choosier.
"You don't want any old traineeship," he says. "You want to find a company that can offer you something for the long term."
— With assistance by Jana Randow
Before it's here, it's on the Bloomberg Terminal.
LEARN MORE