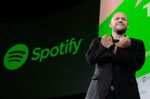 IPOs aren't cheap. Even the ones that aren't IPOs. 
Spotify Technology SA disclosed on Monday that it expects costs of 35 million to 40 million euros ($44 million to $50 million) related to its coming debut as a publicly listed company. Instead of the typical initial public offering conducted and controlled by high-priced investment bankers, Spotify plans to make its existing privately held shares available to buy and sell freely on the stock market next week.
This relatively novel not-IPO has received a great deal of attention for supposedly ditching the usual trappings of a new share offering and cutting out those pricey investment banks. But Spotify's stock listing is costing a pretty penny considering the company is gaining little financially from its stock market debut. 
Consider that Spotify's expected not-IPO costs might be two-thirds of what Snapchat's parent company doled out for its conventional IPO last year. Snap Inc. has said banker discounts on stock transactions and commissions paid to its IPO underwriters amounted to $68.1 million, plus it incurred other costs of $14.7 million. Those expenses amounted to about 3 percent of the $2.6 billion Snapchat took in from the IPO, excluding the shares sold by investors and executives. 
It's not clear how many Spotify shares will change hands when trading starts on April 3. If $1 billion of shares begin to trade, on a percentage basis Spotify's costs will amount to 4 percent to 5 percent of total stock sold. Compare that with underwriting fees in high-profile IPOs, which tend to be 4 percent or less of the money raised in the transaction. Under those circumstances, Spotify won't be getting a bargain compared with the costs of a conventional IPO. 
And in contrast to a typical IPO, Spotify is getting zero dollars from its stock listing. That means whatever the company's costs for its stock market listing, it isn't functional spending. Yes, the company will benefit from stock transactions that establish a true market value for its shares, plus employees and existing investors have a chance to cash out. But by design, Spotify itself isn't selling shares in its stock market debut. That makes Spotify's costs look large compared with the value it is getting. 
Spotify is reaping intangible benefits from its not-IPO, although those are debatable. First, Spotify receives a dose of publicity from the lead-up to trading, while at the same time executives have said they're avoiding an IPO because they don't want the attention. "For us, going public has never really been about the pomp or the circumstance of it all," Spotify CEO Daniel Ek said during a pitch to potential investors earlier this month. Then his company went through the rest of its three-hour marketing spiel followed by a musical concert, all of which was written about by major news organizations (including this one). 
Spotify deserves credit for trying to make its stock market debut more democratic than the traditional IPO process, which favors big financial institutions. Spotify employees who own stock also won't be subject to the typical restrictions that bar them from selling shares for months after a company goes public. Spotify is trying to be more fair. But the company loses points for repeated self-congratulations for shaking up the status quo. "We set out to re-imagine the IPO process, because we believe we can," intoned a video Spotify made for its prospective stock buyers. OK, guys. Enough already. 
Spotify's not-IPO also is clever in planting the idea that the company is so solidly capitalized that it doesn't need the money from an initial stock offering. They might want to take the money.
Spotify has made it clear that it's trying to branch out into new or young business areas that may be more profitable than the subscription music streaming that now generates 90 percent of its revenue. Those emerging ideas, including selling more advertising and using the information on music listening habits to broker concert ticket sales, don't bloom overnight or without fresh investment.
And investment equals money. Spotify made a big deal about how much money it has in the bank and its positive cash flow. Mind you, its free cash flow last year amount to a minuscule 2.7 percent of its revenue. The company does have 1.5 billion euros of cash and short-term investments, which is a nice cushion if Spotify had planned to run its business the same way. Again, though, there are those plans for diversifying Spotify's business. (To be fair, Spotify said Monday that it expects its operating loss to narrow this year.) 
Three big-ticket financial firms -- Morgan Stanley, Goldman Sachs and Allen & Co. -- are advising or helping with the Spotify stock listing, although the company has said the bankers aren't participating in investor meetings or coordinating an initial public listing price for Spotify's shares. Still, Spotify's financial documents say that three-quarters of expected expenses for the not-IPO are for advisory fees. Bankers don't work for free, even if it's not an initial public offering. It turns out that bucking IPO convention isn't cheap, nor is it quite so unconventional.
Before it's here, it's on the Bloomberg Terminal.
LEARN MORE