technology
S. Africa's Regime Change Unclogging Deals, Nedbank CEO Says
By and
CEO Brown 'significantly more confident' about nation's future

He says banks lining up to work on state companies Eskom, SAA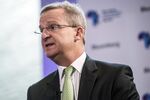 Investments in South Africa's infrastructure that couldn't be completed last year because of political uncertainty are among deals that are now on the cusp of getting done, said the chief executive officer of Nedbank Group Ltd.
Mike Brown's confidence reflects improving sentiment since Cyril Ramaphosa replaced the embattled Jacob Zuma as the country's president last month. The government is trying to resolve policy uncertainty in South Africa's crucial mining industry while getting renewable energy projects underway again.
"The front-end of those transactions would be infrastructure-type transactions, in particular, in South Africa, the renewable-energy deals," Brown, whose bank is controlled by Old Mutual Plc, said in an interview in London on Thursday.
Nedbank plans to "work alongside certain state-owned enterprises, that have previously been starved of funding, to rehabilitate them," he said, emphasizing cash-strapped power utility Eskom Holdings SOC Ltd. and loss-making South African Airways.
Brown has been part of the CEO Initiative, which was started to help the government rescue the economy after Zuma fired his finance minister at the end of 2015.
With Ramaphosa, "we are significantly more confident about the future of South Africa," Brown said. "The fact that we have new leadership doesn't mean the challenges have gone away, obviously, but I think we're much more capable of dealing with them."
Here's more of what Brown had to say:
On land reform:
"I still have a large amount of confidence in the ability of the leadership in government, working alongside civil society and business, to craft a solution"
"We would absolutely expect that all of the banks, as interested parties, and the banking association, plus many many other interested parties, would be part of this process"
On Eskom
"We believe that the new board of Eskom is a very credible board and is the start of a process of fixing Eskom, starting with Eskom's governance"
"Shortly after the appointment of the new board, Eskom came to a banking consortium and asked for a 20 billion-rand ($1.7-billion) loan. Nedbank, some of the other South African banks and the international banks, all provided that loan to Eskom. We would not have done that without the change in leadership"
On investment banking
"We've seen a huge amount of interest in South African financial markets in the last two to three months. And on the back of that, we'd expect a pick-up in M&A activity"
"There'll be a lot of work being done by many bankers on what's the longer-term future of the state-owned enterprises"
'Mining is further out in terms of a pick-up in activity"; "you're unlikely to see significant investment until" a revised mining charter is finalized
On the economy
We're "significantly better off than we were in November"
"All you have to do is look at the strength of the currency and the strength of the bond market"
The announcement by Moody's Investors Services on Friday affirming the country's credit rating while upgrading its outlook to stable from negative is "a vote of confidence in the progress we have made as a country since late last year," Brown said in emailed comments
"However, it should not lead to complacency. It remains critical that we revive the economy using growth enhancing policies that attract investment to deliver the economic growth and job creation needed to uplift people from poverty and address inequality."
Before it's here, it's on the Bloomberg Terminal.
LEARN MORE