markets
U.S. Capital-Equipment Orders Rebound by More Than Forecast
By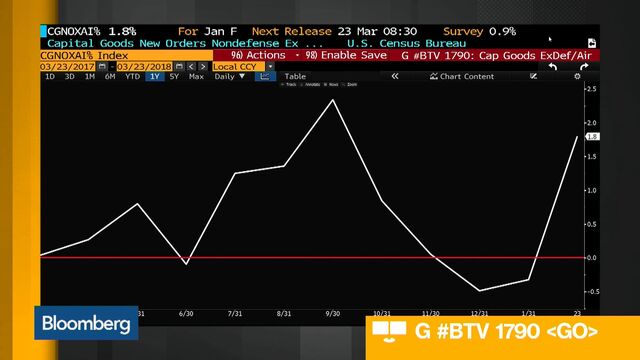 Orders placed with U.S. factories for business equipment snapped back in February after two months of declines, consistent with steady manufacturing growth, a Commerce Department report showed Friday.
Highlights of Durable Goods (February)
Non-military capital goods orders excluding aircraft rose 1.8% (est. up 0.9%), the biggest advance since September, after falling a downwardly revised 0.4% in Jan.; figure is proxy for business investment
Shipments of those goods, which are used to calculate gross domestic product, increased 1.4% (est. up 0.5%); Jan. revised up to a 0.1% increase (prev. down 0.1%)
Bookings for all durable goods, items meant to last at least three years, rose 3.1% (est. 1.6% gain) following a 3.5% decrease
Key Takeaways

The bigger-than-expected rebound in the data suggests corporate outlays for equipment will remain strong in the first three months of 2018 after accelerating for five straight quarters, and some analysts may upgrade tracking estimates for first-quarter figures. While there still may be a tempering in the pace of investment, spending continues to be supported by firmer global economic growth and lower tax rates.
That was also the message from Federal Reserve policy makers this week. In their statement accompanying a quarter-point increase in interest rates, officials said "recent data suggest that growth rates of household spending and business fixed investment have moderated from their strong fourth-quarter readings." Still, they posited that the "economic outlook has strengthened in recent months."
The sizable jump in February's figures reflected increases in categories including primary metals, fabricated metal products, machinery and electrical equipment and appliances. That could also reflect possible efforts by businesses to place orders before Trump administration tariffs on imported steel and aluminum took effect. Investors and economists will watch data including durable goods and trade closely in coming months for any indications of an impact from the tariffs and other trade and retaliatory measures.

What Our Economists Say...
"A strong pickup in February durable goods orders and a broader acceleration in durable goods shipments signals that business investment is on an improving trajectory. This is due to a combination of rising 'animal spirits' in the corporate sector, which are party attributable to the Administration's policies, incentivized capital spending in the tax reforms enacted at the end of last year and more broadly due to the effective middle-stage of the economic cycle commencing -- one in which capacity constraints necessitate business investment in equipment, technology and facilities."

-- Carl Riccadonna and Yelena Shulyatyeva, Bloomberg Economics
Other Details

Excluding transportation equipment, a volatile category, durable goods orders rose 1.2 percent after a 0.2 percent decrease
Civilian aircraft and parts orders rose 25.5 percent after 27.9 percent drop; military aircraft up 37.7 percent following 48.9 percent decline
Orders for motor vehicles and parts rose 1.6 percent following a 0.1 percent gain
Bookings for fabricated metal products increased 0.8 percent; primary metals up 2.7 percent, machinery up 1.6 percent
Orders for communications equipment fell 8.4 percent, biggest drop since December 2015
Durable-goods inventories rose 0.4 percent
Defense capital-goods orders increased 16.5 percent, most since March 2017, following 26.4 percent drop
— With assistance by Katia Dmitrieva, and Chris Middleton
Before it's here, it's on the Bloomberg Terminal.
LEARN MORE