politics
U.K.'s Corbyn Offers 'Regret' on Backing Anti-Semitic Mural
By
Corbyn says he voiced support in 2012 on free-speech grounds

East London mural appeared to portray Jews enslaving humanity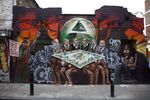 Jeremy Corbyn, the leader of the U.K. opposition Labour Party, said he had been wrong to offer support to an artist who had painted a mural in London's East End that apparently depicted Jews playing Monopoly on the backs of naked people.
Since Corbyn became leader of Labour in 2015 he has faced a series of accusations that some of his supporters were anti-Semitic. Earlier in March he said that he had been a member of a Facebook group where such views were expressed, but that he had never seen them.
On Friday, Labour lawmaker Luciana Berger, who is Jewish, said she'd challenged Corbyn's office about a Facebook post he made five years ago. At the time, Los Angeles-based artist Kalen Ockerman, the artist who had painted the London mural, had complained it was being painted over in response to criticism. "You are in good company," Corbyn replied. "Rockerfeller [sic] destroyed Diego Viera's mural because it includes a picture of Lenin."
After Berger's questions, the Labour leader's office released a statement defending his post to the artist's Facebook page as having been motivated by free-speech concerns before allowing that the mural was both offensive and "used anti-Semitic imagery, which has no place in our society, and it is right that it was removed."
Berger described that response as "wholly inadequate."
"It fails to understand on any level the hurt and anguish felt about anti-Semitism," she said on Twitter. "I will be raising this further."
In a statement, Corbyn sought to clarify his 2012 post, saying "I sincerely regret that I did not look more closely at the image I was commenting on, the contents of which are deeply disturbing and anti-Semitic. I wholeheartedly support its removal."
Ockerman, in an email response to questions by Bloomberg, denied the painting was anti-Semitic, "though historically several of the characters may be of Jewish decent or ideology, my intention was to illustrate the privileged elite upper-ruling class."
Before it's here, it's on the Bloomberg Terminal.
LEARN MORE