technology
What We Learned From Zuckerberg's Interviews
By and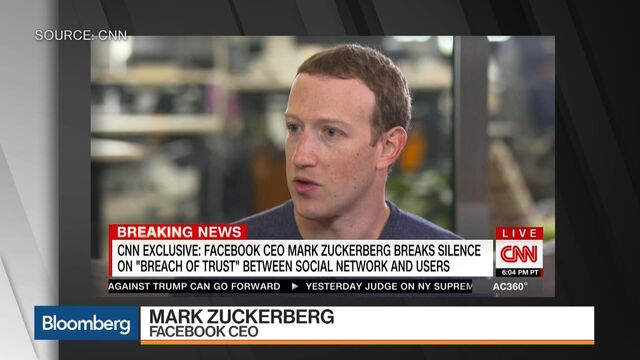 Facebook Inc. Chief Executive Officer Mark Zuckerberg broke his silence about the crisis over political-advertising firm Cambridge Analytica's access to user data on the social network, giving a series of interviews to media organizations Wednesday including The New York Times, Wired, CNN and Recode.
Zuckerberg acknowledged Facebook's mishandling of the data and pledged to take steps to restore the public trust. He said Facebook will inform every one of its two billion-plus users that may have been compromised and promised to investigate whether Cambridge Analytica still holds the information it obtained from a third-party app creator. Facebook is also widening its probe into whether other developers may have run afoul of the company's rules.
The stock has dropped almost 10 percent since last Friday when Facebook said it was suspending Cambridge Analytica from its platform. It was down 1.6 percent Thursday to $166.73 at 10:34 a.m. in New York.
Here is an abridged summary of his comments to the various news outlets:
--On how many apps Facebook will investigate:
"It will be in the thousands."
--On the #DeleteFacebook campaign to ditch the social media company:
"I don't think we've seen a meaningful number of people act on that, but, you know, it's not good. I think it's a clear signal that this is a major trust issue for people, and I understand that. And whether people delete their app over it or just don't feel good about using Facebook, that's a big issue that I think we have a responsibility to rectify."
--On plans to avoid foreign interference in the 2018 U.S. midterm elections:
"I feel a lot better about the systems now. At the same time, I think Russia and other governments are going to get more sophisticated in what they do, too. So we need to make sure that we up our game. This is a massive focus for us to make sure we're dialed in for not only the 2018 elections in the U.S., but the Indian elections, the Brazilian elections, and a number of other elections that are going on this year that are really important."
--On Facebook's basic economic model:
"I don't think the ad model is going to go away, because I think fundamentally, it's important to have a service like this that everyone in the world can use, and the only way to do that is to have it be very cheap or free."
--On philosophical changes Zuckerberg has mulled since the crisis erupted:
"Early on on the platform we had this very idealistic vision around how data portability would allow all these different new experiences, and I think the feedback that we've gotten from our community and from the world is that privacy and having the data locked down is more important to people than maybe making it easier to bring more data and have different kinds of experiences. And I think if we'd internalized that sooner and had made these changes that we made in 2014 in, say, 2012 or 2010 then I also think we could have avoided a lot of harm."
--On regulation:
"I actually am not sure we shouldn't be regulated. There are things like ads transparency regulation that I would love to see."
--On calls to testify before Congress:
"The short answer is I'm happy to, if it's the right thing to do."
--On Facebook's responsibility to weed out bad actors on the platform:
"What I would really like to do is find a way to get our policies set in the way that reflects the values of the community, so I'm not the one making those decisions. I feel fundamentally uncomfortable sitting here in California at an office, making content policy decisions for people around the world."
-- On whether Facebook can retrieve data from third party developers:
"Not always." The audits "will clean up a lot of data, and going forward the more important thing is just preventing this from happening in the first place and that's going to be solved by restricting the amount of data that developers can have access to."
--On the cost to Facebook:
"We're going to be investigating and reviewing tens of thousands of apps from before 2014, and assuming that there's some suspicious activity we're probably going to be doing a number of formal audits, so I think this is going to be pretty expensive. I think this is going to cost many millions of dollars and take a number of months and hopefully not longer than that in order to get this fully complete."
For more on Facebook, check out the Decrypted  podcast:
Before it's here, it's on the Bloomberg Terminal.
LEARN MORE