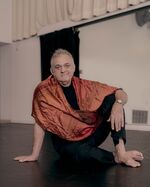 Choreographer Mark Morris just finished creating a new dance in February. And, if it's anything like the roughly 150 works that made him a darling of the performance world, it will be breathtaking. But this particular piece of modern dance won't be presented next season. In fact, it won't be performed for years—maybe 20, possibly 30. It's intended to give the Mark Morris Dance Group fresh material long after its innovative director is gone.
Morris, 61, isn't in ill health. But the idea to save some works for the future came up when Nancy Umanoff, the executive director of his 38-year-old company, was exploring ways to preserve the choreographer's legacy. That includes not only his body of work, but also a popular school, numerous outreach programs, and the seven-studio Mark Morris Dance Center—which helped anchor Brooklyn's downtown arts district. In 2017 the company had revenue of $5.5 million from performances.
On hearing about the preservation concept, Morris was immediately excited. Or almost immediately. His first reaction, he says, was, "What? Are you trying to kill me?!"

Like many visionary choreographers, he founded his troupe with a particular aesthetic, and his dancers perform only his work. It's a company model—single choreographer, founder-led—in use since the early 20th century pioneers of modern dance created it. It gave choreographers consistent dancers, studio space, and organizational support in an era when modern dance, led by artists such as Martha Graham, was busting up conventions with new genres of movement. But on the way to the 21st century, dance lost its prominence, as well as its funding and media attention. And when Graham's generation began to die, single-choreographer companies started to feel like one-artist museums. In the past decade, major companies such as Mark Morris and Paul Taylor Dance Company and smaller troupes like Elisa Monte Dance and Battery Dance have had to face an existential crisis.
Such groups are expanding their structures and missions, but for the successful artists who built them decades ago, doing so means making major changes to the way they've always operated. For some, it means passing the baton. The best-case scenarios emerge with input from the one person—the founder—who usually (and understandably) doesn't want to talk about her own mortality. Still, avoiding the problem only increases the risk that one's work will no longer be performed and philanthropic supporters will walk away.
The issue is crucial, because maintaining dance is unlike any other form of preservation. A play or symphony can be forgotten for decades, then performed with a valid interpretation by a director or conductor. But a choreographer's work can be lost if dancers don't teach and perform it. Video and notation can only do so much.
"If it's not done and it's not seen, it's not getting passed on," says arts management consultant Sharon Gersten Luckman, who was executive director of the Alvin Ailey American Dance Theater for 16 years. "People have to be keeping it alive and doing it."

Ailey's is one of the few companies that's managed to evolve smoothly. In his case, in 1989, he appointed Judith Jamison, a star dancer, to succeed him while he was alive. With the help of the board, she in turn appointed a successor while still on the job, having expanded the company and its financial support.
Then there were Graham and Merce Cunningham. Graham opened her studio in 1926. After her death in 1991, a power struggle for artistic direction ensued. When her heir, Ron Protas, was ousted, he sued to prevent the company from using Graham's property, including her name, technique, dances, and accompanying sets and costumes. Many issues were quickly resolved, but some took years. Each of the 181 dances was judged individually. During the period of uncertainty, some funders disappeared. Had Protas been given the rights to her dances, some of the greatest modern works in the field would have been unavailable to the troupe; two pieces still are. But today the group is thriving, touring, and commissioning new work.
Decisions were reached more carefully about how to carry on the legacy of Cunningham, who died in 2009 at age 90. The board and management interpreted his statements to close associates—and later in public—to mean that his company, formed in 1953, should close after his death. Although a huge loss for the field and public, that wish was honored in 2011. The Merce Cunningham Trust lives on to maintain the dancer's technique and to license works to qualified companies and schools.
Foundations have since stepped up their interest in seeing company leaders forge a viable path, says Umanoff of the Mark Morris Dance Group: "There is a lot of pressure from funders to make a decision." She hit on the idea of future dances after reading about Katie Paterson's "Future Library." The Scottish multimedia artist's long-range project involves a forest planted in Norway in 2014 to provide paper for as-yet-unpublished novels. A writer each year will contribute a work until 2114, and it will be held in trust for publication at that time.
Morris's concept is shaped by a parameter he also follows today: No company but his own may dance his work. (He makes exceptions for universities and ballet and opera companies.) "I've seen my work done by other dancers. I've coached it. I've rehearsed it," he says. "And then I watch it, and … that's not the dance I want to see." His aesthetic, frequently lauded for its musicality, is balletic yet contemporary. It's highly precise, yet it allows the dancers to come across as self-aware individuals rather than people moving as they were told to. Outside dancers often nail the precision, but not the élan.
Morris's rule will keep his work pure, but it reduces the options. If his choreography can't be danced by others, the only way to fully preserve it is to ensure his company continues to perform. Saving dances for the future offers a way to sustain the troupe by ensuring supply and encouraging demand. If Morris keeps stashing away works, the company will be able to offer presenters and audiences the allure of premieres for years to come. The process, however, requires extra time and funding. The sets and costumes are designed, but not built. Detailed videos and information are archived for dancers who won't have Morris around to answer questions.

Modern dance legend Paul Taylor's vision for sustaining his company, established in 1954, is also rooted in giving audiences something new, even if not by his own design. Already in his 80s, Taylor announced in 2014 that the 18-member company, though still performing his work, would commission repertory from leading dance makers and present classics of modern dance.
The move has given it a broader purpose—to preserve the past, present, and future of dance. Says Richard Chen See, a former Paul Taylor dancer: "Even the Royal Shakespeare Company does more than Shakespeare."
The new direction came from Taylor, says John Tomlinson, the company's executive director. Tomlinson was so shocked when Taylor suggested the plan that he didn't work on it at first. But Taylor was serious. To cover the added costs of commissioning and presenting others' dances, Taylor donated Robert Rauschenberg artworks from his collection to the company. Four were auctioned at Sotheby's for $6.3 million.
With Taylor leading the change and being a part of the rollout, the company avoided naysayers and second-guessers. The risk is more than reputational: Funders could turn skittish or find a vision less compelling without a founder's approval. "You can confuse every stakeholder," warns Michael Kaiser, chairman of the DeVos Institute of Arts Management at the University of Maryland. "You can cause disruption on the staff, board, dancers, and audience."
Perhaps the most important impact of Taylor's decision was that it redefined the role of the next artistic director. What the company doesn't need—and had been fearful of not finding—is another Paul Taylor, a brilliant choreographer of galvanizing vision. Now, as a repertory company, it needs a curator, who may or may not choreograph, but who'll engage and excite audiences, as well as maintain Taylor's dances. That person has yet to be identified.

Companies should avoid postponing a transition plan until after a founder is gone, according to a report by the Bridgespan Group, a nonprofit management consulting firm. The report, Making Founder Successions Work, looked at about 300 transitions at a variety of nonprofits and conducted interviews at about 30. The research showed that when a founder stays on to guide a successor selected from within the organization, the transition is significantly more successful than in any other transition, such as when a founder makes a clean break.
In the best cases, according to the study, four main conditions need to be in place: The founder must be capable and willing to engage; the board must see the value in the founder's continuing role; that role must be clearly defined; and the successor must be willing to work with the founder.
That's all fine in theory, but an artist such as Graham would have had none of it, says Janet Eilber, one of her former dancers who's now artistic director of the Martha Graham Dance Company. "I don't think she thought of a world without herself," Eilber says. "She was all about making astonishing art."
Choreographer Elisa Monte, another former Graham dancer, founded her own company in 1981. She was more practical than Graham when, in 2008, she tapped her successor, Tiffany Rea-Fisher, one of the company's principal dancers. Rea-Fisher had also been writing grants and organizing the archive. Her phone conversation with Monte about the leadership role was so unexpected that she almost hung up. "I didn't know what to do or say. So I said, 'OK, I have to go,' " she recalls.
The two soon talked, and the process was textbook. In 2010, Monte presented her decision to the 12-member board, which hired a consultant to create a three-year transition plan that allowed stakeholders to see Rea-Fisher in a different role, with Monte's approval.
Rea-Fisher interprets dance as a vehicle for radical community service. In 2013 she and two dancers visited Dickinson, N.D., to lead workshops at an Indian reservation, senior centers, and other sites. By their fourth visit to Dickinson, company members had visited 30 organizations.
Jonathan Hollander, founder of Battery Dance in Lower Manhattan, has gradually changed his mission over the past 40 years. He reduced the emphasis on his own choreography while shifting toward international travel with Dancing to Connect, his movement-therapy workshop for refugees and victims of violent conflicts. All his performers are trained as teachers and choreographers, creating a pipeline of leaders to ensure that his cultural diplomacy will continue. He wants the ensemble ethos of Battery Dance to shape who's at the top in the future. "It may be a somebody, or somebodies," he says.
The model of one artistic voice leading a company for the sake of that voice may be dying out. Although Morris says he's comfortable with his troupe dancing work by other choreographers, he's confident his stockpiling plan will succeed in generating continued interest for his company. "I'm not exactly a Robert E. Lee equestrian statue," he says.
Before it's here, it's on the Bloomberg Terminal.
LEARN MORE