Boeing Is Poised for Worst Month in Two Years
By
Analyst sees 'a real element of unknown' from tariff fallout

Spat weighs on stock already pressured by supplier strains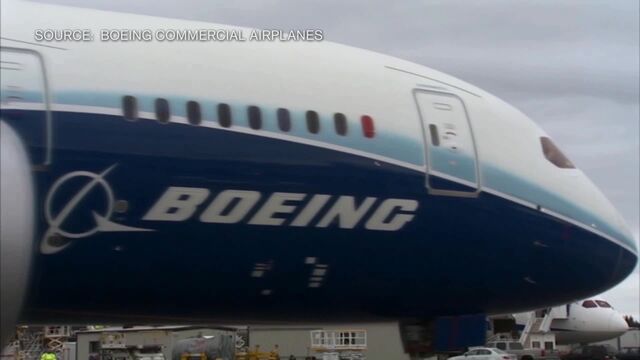 Boeing Co. is heading for its biggest monthly decline in two years as U.S.-China tensions over tariffs threaten a wider trade war that would stifle demand for its airliners.
President Donald Trump's plan for sweeping duties against China triggered retaliation by the Asian nation, heightening uncertainty for Boeing, which is poised to generate a torrent of cash from a record commercial backlog. The Chicago-based planemaker would suffer if a trade war spills over into the global economy and hurts air-travel growth.

"There is a real element of unknown around this," said Ken Herbert, an analyst at Canaccord Genuity. "There is no way to spin this as positive. The question is whether this is a bigger issue potentially, or a minor speed bump."
China Hits Back at Trump Tariffs as Trade War Finally Arrives
The risk of broader economic fallout has knocked Boeing from its spot atop the Dow Jones Industrial Average, a perch it enjoyed last year and all the way through February. The shares were already under pressure in recent weeks as some investors locked in profits while others worried that rising strains on suppliers would endanger Boeing's plan to speed output of the 737, its biggest source of profit.
Boeing fell 5.2 percent to $319.61 at the close in New York, bringing its decline in March to nearly 12 percent. That's the biggest drop on the Dow during the period, and erases the stock's late-February surge to a record $364.64.
Chief Executive Officer Dennis Muilenburg has said that the aerospace business's traditional boom-and-bust cycles have been muted as enormous travel demand in China and Southeast Asia acts as a counterbalance to European and North American trends.
Yet the current unprecedented growth spurt for the industry still isn't enough to tamp down worries among some investors of a trade-related recession.
Tariff Anxiety
"Our fear on a recession is that it could potentially come from a trade war triggered by U.S. tariffs," Douglas Harned, an analyst at Bernstein, said in a March 16 report. He deemed the risk greater to Boeing than tit-for-tat retaliation by China against Trump.
Gadfly: Trump Just Set Boeing on a Collision Course With China
China is expected to take about 20 percent of commercial jets built by Boeing and Airbus SE as the nation's airlines grow rapidly to connect passengers to the 35 new major airports built between 2012 and 2017, he said.
Boeing is building a finishing center for 737 aircraft in the eastern Chinese city of Zhoushan, its first overseas, which will begin operating by the end of this year. Airbus already has one in Tianjin, near Beijing, for its single-aisle A320 family, and added the A330 last year.
With both planemakers sold out of their narrow-body jets through the early 2020s, there is little risk of China canceling its Boeing orders because Airbus wouldn't be able to shoulder the load alone.
"We are not particularly concerned about Chinese retaliation against Boeing, because China needs the airplanes and Airbus is already stretched on capacity," he said. "We could see a one-time long-term order move to Airbus as a message to the U.S., but we would not attach much significance to it as we expect balance over the long term."
Quotes from this Article
Before it's here, it's on the Bloomberg Terminal.
LEARN MORE