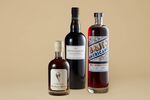 Italy doesn't have a monopoly on bitter liqueurs, though it often seems that way. Campari, Cynar, Aperol, and their ilk are commonly called by their Italian name, amaro, and have been widely enjoyed in European spritzes for generations.
And while Negronis and other classic cocktails that require these herbal digestivos have become popular in the U.S., the ingredients aren't traditionally made stateside. That's about to change, though, as a handful of producers boldly endeavor to awaken the land of Bud to the beauty of bitterness.
It was only a matter of time: Sales for Italian brands Campari and Cynar have been on the upswing in recent years as bartenders have rediscovered and popularized amaro-focused drinks such as the boulevardier and the Americano. Fernet-Branca, a notoriously bitter liqueur, has even become the equivalent of a secret handshake for those working behind the bar.

Still, when Lance Winters's company, St. George Spirits, in Alameda, Calif., started developing Bruto Americano ($30), the main challenge was the American palate, which, despite the growing popularity of IPA-style beers over the past decade, is less adventurous than Europe's when it comes to bitters. He'd initially set out to make a fernet-style amaro but ended up crafting something closer to an aperitivo such as Campari. The flavor evokes Maine's balsam fir and California buckthorn bark, a medicinal herb that Winters says reminds him of his parents' sandalwood incense.
Winters suggests serving Bruto with soda to make a low-alcohol lunchtime drink. For something stronger, he'll use it with gin and vermouth in a Negroni. Andrew King, a bartender at the Fig restaurant in Charleston, S.C., pairs Bruto with Strega, an Italian saffron-and-fennel liqueur, and shakes them with agave syrup and lemon juice.

Opah ($33), another West Coast amaro, hit the market in fall 2014. The cinnamon- and anise-tinged spirit, made by Cutwater Spirits in San Diego, is similar to Averna, an intense Sicilian amaro flavored with citrus, pomegranate, and cola nut. Co-creator Yussef Cherney prefers it neat at room temperature, but it plays well in spritzes and other cocktails that call for traditional amaro. At New York's Momofuku Nishi, bartender Erica Pires uses it to make a riff on the Singapore sling that's called a Shima sling. Opah's fruity bitterness is a nice counterpoint to the bright notes from orange liqueur and lime and pineapple juices.
The fernet from Leopold Bros. ($32) goes in a mintier direction. The liqueur has been steeped in a flight of bitter roots followed by rose petals, elderflower, chamomile, and honeysuckle, then drained and racked into chardonnay barrels for months of aging.

And what trend would be complete without an offering out of Brooklyn? Fledgling distillery Forthave Spirits launched its Marseille Amaro ($32) in January 2017. Founder Daniel de la Nuez dove deep into the ancient origins of bitter elixirs and created an amaro based on an herbal remedy for the plague. He settled on a recipe with flavors of cinnamon, mint, honey, and eucalyptus. As with most amaro, Marseille is excellent on its own, but at Colonie, a sustainability-minded restaurant in Brooklyn Heights, bartender Brian Smith shows how versatile it can be by adding Forthave's amaro and Galliano L'Aperitivo to Scotch, rhubarb juice, rose, and lime.
3 Recipes To Try at Home
Boulevardier
1 oz. to 1.5 oz. rye whiskey or bourbon
1 oz. sweet vermouth 
1 oz. Bruto Americano
Stir with ice, garnish with lemon peel, and serve. If you prefer gin, swap it for the whiskey and you'll have a Negroni.
Shima Sling 
1.25 oz. sugar cane- and rice–based Japanese Shochu
.75 oz. Cutwater Opah
.75 oz. lime juice
.75 oz. pineapple juice
.5 oz. Cointreau
Shake, strain into an ice-filled collins or water glass, with maraschino cherries and cocktail umbrella for garnish
Balderdash
1.5 St George Bruto
.5 Strega
.75 agave syrup (1:1 agave nectar to water)
.75 lemon juice
Shake, strain into a chilled cocktail glass, with orange peel to garnish
Before it's here, it's on the Bloomberg Terminal.
LEARN MORE