markets
Ex-HSBC Currency Trader Deserves Decade in Prison, U.S. Says
By
Government says Johnson perjured himself during his trial

Prosecutors won conviction over front-running customer order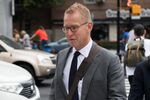 U.S. prosecutors say former HSBC Holdings Plc currency trader Mark Johnson deserves a decade or more in prison based on his fraud conviction for front-running a $3.5 billion client order and lying on the witness stand at his trial.
Johnson, the bank's former global head of foreign exchange trading, was found guilty in October by a federal jury in Brooklyn, New York, of charges tied to HSBC's execution of an order from Cairn Energy Plc in 2011. Prosecutors said Johnson deserves a term of nine to 11 1/2 years as he caused $7.3 million in losses, noting that "HSBC settled Cairn's claim relating to this incident for approximately $8 million."
HSBC was hired by Cairn to convert the proceeds of a unit's sale from dollars into pounds. Johnson and Stuart Scott, a former head of European currency trading, were among a group of HSBC currency traders in New York and London who feverishly bought pounds just before the Cairn transaction, prosecutors say. Johnson was the first person to be tried since the currency-rigging scandal that resulted in global banks paying more than $10 billion in penalties.
Johnson has asked for leniency from the judge who is scheduled to sentence him on April 2, arguing that he'll suffer as U.K. citizen being imprisoned in the U.S., prosecutors said. Johnson's lawyers didn't publicly file their sentencing memo and Frank Wohl, a lawyer for Johnson, didn't return messages seeking comment.
HSBC Trader's Conviction Will Echo in $5 Trillion FX Market
Prosecutors say Johnson perjured himself repeatedly during his days on the witness stand by claiming neither he nor anyone at HSBC gave Cairn false or misleading information when they promised not to "ramp" the fix, or when HSBC traders claimed a Russian Central Bank was responsible for the uptick in the price of sterling and Johnson didn't correct them.
Scott, who was indicted with Johnson, is appealing a U.K. court order that he be extradited to the U.S. to face charges.
The case is U.S. v. Johnson, 16-cr-457, U.S. District Court, Eastern District of New York (Brooklyn).
(
Updates with HSBC settlement with Cairn Energy.
)
Before it's here, it's on the Bloomberg Terminal.
LEARN MORE